Telluric Pendulum
Courtesy:
Courtesy the artist, Galerie Eva Presenhuber, Zurich/New York and C L E A R I N G New York/Brussels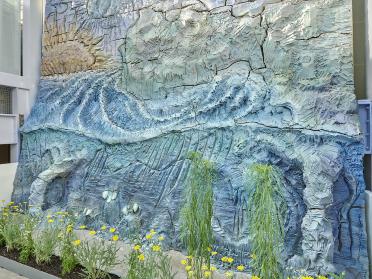 This terrace garden invites visitors to rethink our relationship with time, on the scale of nature and the cosmos. Until the Industrial Revolution in the nineteenth century, the measurement of time was based on the observation of natural phenomena. Then, the need to set the duration of work and technical progress introduced quartz into watchmaking in 1930.
The locust is a recurring motif in the work of Jean-Marie Appriou, who is fascinated by its frightening character in ancient and biblical stories as well as its joyful appearance. In this fresco, it is elevated to the rank of cosmic giants. Appriou uses the ancestral technique of bas-relief to present an epic scene, heralding a new kind of civilization.
Production specifications
The Fondation preserves and documents traces of the works at various stages of their creation (sketches, models, prototypes, etc.).
Le bâtiment de Lafayette Anticipations, un retable géant
Jean-Marie Appriou projette des images dans son environnement pour y prendre place. Le sculpteur associe la verticalité des espaces de Lafayette Anticipations à un retable, dont la lecture traditionnellement horizontale serait renversée. Chaque étage de la Fondation serait alors dédié à la représentation d'une scène d'un univers spirituel inédit. Jean-Marie Appriou se réfère aux œuvres de Jérôme Bosch.
L'argile, source créatrice
Cette exposition est l'occasion de montrer "les fantômes". Je sculpte toutes les œuvres d'abord en terre, puis elles sont moulées, et enfin les terres sont détruites et disparaissent, mais on peut mouiller la terre et la retravailler indéfiniment tant qu'elle n'est pas cuite. Surface Horizon était l'occasion de montrer ce moment, ces fantômes qui n'existent qu'à l'atelier.
Jean-Marie Appriou
L'argile est un matériau prisé par Jean-Marie Appriou.
C'est une terre meuble (glaise) plus ou moins malléable lorsqu'elle est imbibée d'eau. Elle se situe dans les couches supérieures du sol et résulte de la décomposition de roches. C'est un minéral fait de silicate d'alumine cristallisé en particules d'une taille inférieure à quatre micromètres. Les silicates se présentent sous la forme de feuillets superposés (phyllosilicates).
On utilise l'argile dans de nombreux domaines. Dès l'Antiquité, on y a recours dans la construction d'habitats et de monuments sous forme de briques crues ou cuites, mais également en poterie dans le façonnage de céramiques. Cette argile est plus ou moins chargée d'impuretés. Il s'agit de fer en général qui lui confère une teinte rougeâtre. Il existe également une argile totalement blanche : la matière est pure car elle demeure à l'endroit où elle s'est décomposée. Elle est cependant impraticable à travailler sans ajout d'autres matières. Cette argile se trouve notamment en Chine et au Japon sous le nom de « kaolin » et est utilisée dans la fabrication des porcelaines. Aujourd'hui l'argile entre dans la composition du ciment, de cosmétiques et de médicaments.


Pour Jean-Marie Appriou, l'argile fait également écho aux recherches de Marguerite Humeau sur le surface horizon, cette couche qui se trouve juste sous la surface du sol dans laquelle les organismes morts se transforment en vivants :
C'est comme un limon. Dans l'Égypte ancienne, quand le Nil était en crue et que l'argile se déposait sur les champs, elle devenait un élément sur lequel tout pouvait pousser, comme l'humus dans la forêt.