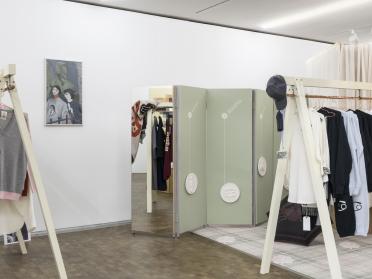 Showroom presents Jasperwear collection conceived by Atelier E.B, which is a fashion label run by designer Beca Lipscombe and artist Lucy McKenzie. Both place art, fashion and design on an equal plane and reinvent conventional modes of display and distribution.
For the
Showroom
's setting,
Lucy McKenzie
has painted a picture which represents the 2018 fashion shoot of their
Jasperwear
collection in the style and spirit of the French avant-garde artist Marie Laurencin. The paravent screen also painted by the artist is printed on one side by
Beca Lipscombe
who collaborated with artists Calum Stirling and Rachel Colvin to produce the Jesmonite cameos adorned on each panel, inspired by a display that featured in the 1946 V&A exhibition
Britain Can Make It
. The artistic inspirations of
Jasperwear
collection are numerous. Neo-classicism however is a recurrent theme in the collection, found in Atelier E.B's cameo necklaces. It shows appropriation as an unstoppable force. Besides
Jasperwear
name pays tribute to « jasperware », a neoclassical blue bisque porcelain developed by Wedgwood's factory in the 1770s. On the contrary the pieces of jewellery in the collection are inspired by props in the British TV cops. Atelier E.B is also interested in aspects of historic and non-Western dress. The cashmere tracksuit bisects the torso on the diagonal in the same elegant way as a saree or a toga does, while the
Scutum
umbrella is quite literally a Roman shield. Thobe shirt and trousers are influenced by dishdashas. Both finally recognize the influence of many fashion designers like Gilbert Adrian for the neoclassical dresses, Bonnie Cashin for sportswear and Madeleine Vionnet for simple daywear.