Mutant Stage 9
Medium:
Film, 2.32 minutes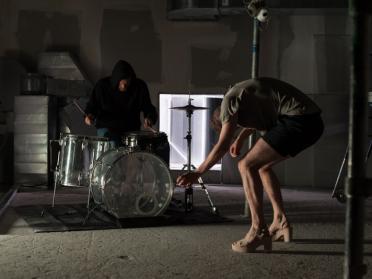 This movie stems from the impression we had during our first site visit in February 2017: the building was incomplete, rugged, brutal, but also seductive and gasping, with a repetitive architecture.
By extrapolation, these first associations gave birth to our desire to work on rhythm, and to include live and percussive music in the film. We collaborated in a very impulsive and organic manner; improvisation became our modus operandi. The film is the result of this physical and dynamic interaction between a construction site, a dancer, a drummer and a camera.
Lukas Dhont
and Jan Martens
Jan Martens
Jan Martens studied at the Fontys Dance Academy in Tilburg and is a dance graduate of the Artesis Royal Conservatory in Antwerp. He has performed with Mor Shani, Tuur Marinus, Ann Van den Broek, amongst other artists. In 2009, he began his own choreographic work. He has been hosted in this capacity by Frascati, ICKamsterdam, CAMPO and DansBrabant. In 2014, together with business leader Klaartje Oerlemans, he founded GRIP in Antwerp/Rotterdam, where his work is currently organised and distributed. Throughout the years, he has created numerous and diverse pieces such as SWEAT BABY SWEAT (2011), VICTOR (2013), THE DOG DAYS ARE OVER (2014), THE COMMON PEOPLE (2016) and RULE OF THREE (2017). His work is regularly performed in Flanders, the Netherlands, France and Germany, and can also be seen at festivals and theaters, including the Dampfzentrale Bern, Théâtre de la Ville Paris, Dance Umbrella London, Tanz Im August, Tanzquartier Vienna, Usine-C Montréal, Dansenshus Stockholm and Dansehallerne Copenhagen. Between the summers of 2016 and 2018, Jan Martens is an Associate Artist at Le Gymnase CDC in Roubaix, Nord Pas de Calais. He is also Creative Associate at deSingel International Arts Campus until 2021. Jan Martens was awarded the Dance award from the Prins Bernhard Cultuurfonds North Brabant in 2013 and the prestigious Charlotte Köhler prize in 2015 for his artistic work.