Mutant Stage 3
Medium:
Film, 2.26 minutes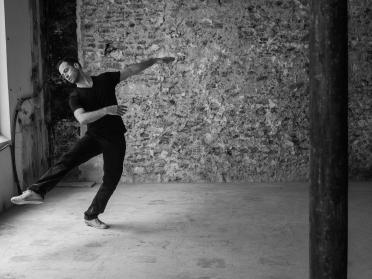 For the third episode of the series, Benjamin Millepied adopts simultaneously the roles of choreographer, dancer and director.
By personifying the building's ubiquitous nature, he reveals in black and white the state of transition of certain emptied spaces. The 9 rue du Plâtre, currently immersed in an architectural, chromatic and choreographic in-between, is exposed delicately to the audience. The two previous
Mutant Stage
episodes carried the traces of the building's former uses: a hat repair store, a school.
Benjamin Millepied
's lens and rhythm offer a new perspective on the bare space, now resembling a skeleton composed of dust and steel. As such, the third
Mutant Stage
episode distills the structure to its simplest form, where only lines, material and light remain.