Mutant Stage 2
Medium:
Film, 2.30 minutes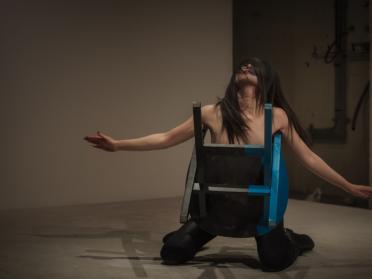 The second episode of the
Mutant Stage
series was filmed in November 2014 by Elene Usdin. It is a fable that gives birth to various combinations of bodies and objects.
"Imaginary creatures emerge from this episode. They mimic Man's everyday gestures which objects had also attempted to recreate, out of nostalgia. Numerous transformations stem from these interactions: the mattress becomes a soft shell; the electric cables turn the dancer's body into a spider untangling its web. Resembling urban and concrete animals, these surrealist creatures reference Ovide's Metamorphisis."
Elene Usdin
Jung-Ae Kim
Trained in traditional dance in Korea, and classical and contemporary danse, Jung-Ae Kim graduated from the CNR in Paris and the EX.E.R.CE Centre Chorégraphique National de Montpellier. She began her career at the age of 15 in the company Trust and collaborate since then with numerous choreographers: Mathilde Monnier, Olivier Dubois, Odile Duboc, Jean-François Peyret among others.