Les filles se marient dans les rideaux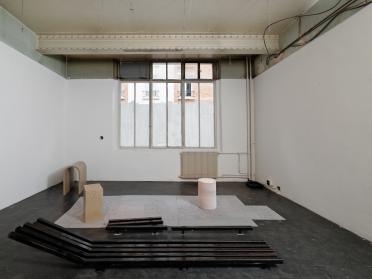 Eric Van de Walle was resident at Lafayette Anticipations - Fondation d'entreprise Galeries Lafayette, from January to June 2014, during which he conducted visual art research. His encounters at Lafayette Anticipation enabled him to develop his approach. As he moves away from design to do more artistic work, Eric Van de Walle is in search of a new "palette of materials" as he puts it, in order to create installations using various elements and processes.
At the confluence of minimalist abstraction and decorative arts, the furniture of
Eric Van de Walle
preserves the strong intention to discard the obvious. The pieces are not always identifiable, yet still respond to criteria of use and function, to a form of elementary convenience.
Les filles se marient dans les rideaux
:
Le déguisement
, mixed media, 2014
Ce qui nous ressemble
, photographs and glass, 2014, (extract from
Un trajet
, capturing a Florence Vax train ride)
Le soldat Noguchi
, waterproof chipboard, 2013
Agglomérat
, waterproof chipboard, 2014
Column
, pizza boxes, Carrara marble, 2014
Plate-forme
, linoleum, 2014
Charlotte sometimes
, steel, plastic drawer, photographs, 2014