Lake Valley
Dimensions:
11 minutes et 39 seconds
Courtesy:
Courtesy of Pilar Corrias Gallery, London and Gavin Brown's enterprise, New York / Rome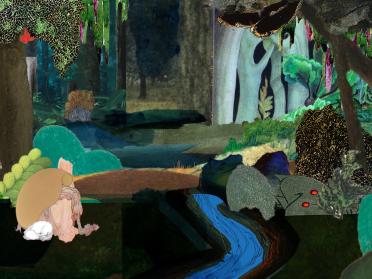 Concerned with the topic of childhood, Lake Valley is an animation comprised of hand-drawn celluloid frames and layered plates generated from thousands of scanned 18th, 19th and 20th century children's book illustrations.
Set in an imagined American suburb that shares the title of the work, Lake Valley centres on a domesticated chimeric animal left alone by its owners. It ventures outside into what it sees as a magical forest, encountering various other animals including its own kind. The impulse for Lake Valley was Rose's inquiry into Western ideas of childhood as separate from adulthood. Industrialization gave rise to the nuclear family, delineating the child's role as separate from that of the adult. Modern children's literature evolved out of this in the 18th century during the Industrial Revolution in Europe. Recognising the themes of abandonment and separation as a dominant narrative in early children's stories, Rose wrote a fable that amalgamated literary sources she was researching from the past, to create her own retelling of loneliness.