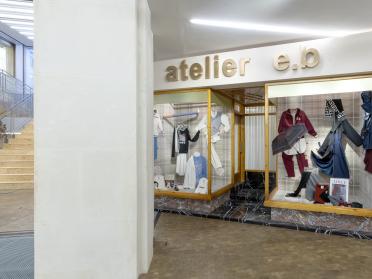 This fake shop, designed and built by the artist Steff Norwood, is based on a traditional clothes shop in Ostend (Belgium) which has since closed down.
Atelier E.B's clothes are showed in Fake Shop or Faux Shop without a mannequin using the skills of window dressers. This involves pining and hanging which give to the clothes a sort of movement and dynamic. There is a contrast between the spectacular of the show and the pretty unspectacular clothes. This skilled area reminds of the gentlemen outfitters into the street of Naples in Paris, a real art which has been lost.
Production specifications
The Fondation preserves and documents traces of the works at various stages of their creation (sketches, models, prototypes, etc.).