The Extra National Assembly #1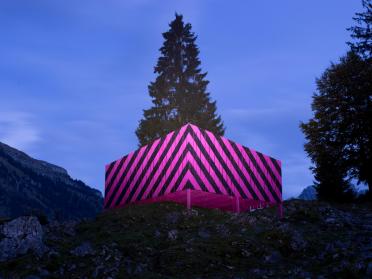 In housing, transport and public services, the futures cities we have been promised are being symbolically constructed based on models of horizontal cooperation, following the broad principles of technological development described in Jeremy Rifkin's book The Third Industrial Revolution. If we believe this prophesy, the intelligent city will mix everything that constitutes the identity of an analogue or so-called industrial city, in a synchronous ecosystem without boundaries: territory, history, identity and language will all but cease to be absolute values, becoming data that is relative and interchangeable according to each person's needs or expectations. The intelligent city will develop what could be called media potential, until all distance is abolished.
In the course of this evolving urbanity,
Jerszy Seymour
's
Extra National Assembly
reintroduces a zone for presence, encounters and reflection on the future of inhabited, shaped, named territories constituted by the human mind. The Assembly, whose name alone describes a structure, was born of the Swiss landscape, whose nature conceals a complex historical, economic, literary and political construction. Originally perched on the side of the Klöntal valley in the canton of Glaris, this low-tech cabin made of studded, openwork planks was an invitation to experience the landscape paradoxically. Behind its broad red and black stripes, the structure—obviously foreign to the romantic landscape—had to become the place where Edouard Glissant's "Tout-Monde" ("Whole-World") became a reality. Philosophers, researchers, artists or passers-by filed through it over the course of two days in October 2014 without any common heritage but their humanity, in order to enter into exchanges on the nature of being, its physical diversity and the representations it inspires.
Jerszy Seymour
wants this embassy of pure thought—where no authority is exercised other than that of the community which sporadically meets there—to be part of the "Grand Paris" development. The designer, artist and philosopher is developing an active form of thought there, a vision that is called to spread in the privacy of the Assembly, not just here and now but everywhere and nowhere. This is the meaning of its every-topia, which constitutes a true parallel micro-world. The Extra National Assembly suspends our economic, aesthetic and social models to give precedence not only to the disenchanted search for a happy ending, but also to creative euphoria. It employs design beyond objects, in a poetical relationship with urban or natural people and places. Like most of
Jerszy Seymour
's works, it has the value of an unfinished total work, constantly augmented by its instigator and those who wish to claim it. Therefore, the Assembly is not a place to withdraw from identity. Quite on the contrary, it is a place for expressing singular words. Through its form and presence, it aims to symbolically abolish boundaries and invites us to freely consider the citizen's humanity. Like bandstands constantly appropriated by the public despite their primary purpose, the Assembly will each time fill with the vibrations and harmonies that have inhabited it. Thus this form, both simple and clever, provides the landscape with a public place for contemplating the essence and resources of our contemporary life.
The Extra National Assembly #1
, a meeting held from October 11th to 12th 2014 as part of the Klöntal Triennale. With : Antonia Birnbaum, Rodney La Tourelle,
Jerszy Seymour
, Fabien Vallos et Christopher Yggdre. Et aussi Yanik Balzer, Veronika Bjarsch, Lovis Caputo, Milos Djuric, Egon Elliut, Sarah Kueng and Kira Lillie.