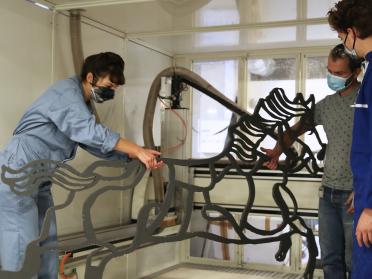 Elvire Caillon and Léonard Martin are visual artists respectively trained at the École Estienne and Le Fresnoy - Studio national des arts contemporains, and both graduated from the Beaux Arts de Paris.
During their residency at Lafayette Anticipations, and with the help of our production and coordination team, the duo produced part of the modular scenography for Tempura Cockpit, a play programmed at the Théâtre Nanterre-Amandiers in 2021.
Notably inspired by the Japanese theatre tradition of Bunraku, where the characters are represented by large puppets, Tempura Cockpit is situated between object theatre and artistic installation: large wooden panels machined from Elvire Caillon's drawings are fixed on custom-made mobile frames, giving rise to a mobile, adaptable and playful set - in which a series of hand-made puppets will evolve.