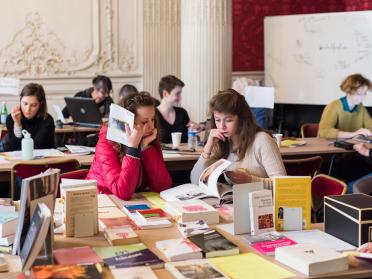 What is a queer life? "Queerness is not yet here", once said José Esteban Muñoz, "queerness is an ideality. Put another way, we are not yet queer. We have never been queer, yet queerness exists for us as an ideality that can be distilled form the past and used to imagine the future. The future is queerness's domain".
The Parisian edition of
Editathon Art+Feminism
s, curated by
Flora Katz
, alongside
Wu Tsang
and the team, invites you to contribute directly during two days of meetings and editing workshops. Synchronously, with more than 150 places around the world, you are invited to reduce gender inequalities on Wikipedia platform by editing on arts and feminisms, with a particular focus on artistic forms of the disidentification: humor, irony, misunderstanding, parody, melancholy, camp etc. These tactics are described in the book of José Esteban Muñoz
Disidentifications: Queers Of Color And The Performance Of Politics
(1999) but also by the artists, curators, art critics who will join us for this occasion. Disidentification which regroups the processes by which a minority group distances itself from the stereotypes through its artistic practice and marks its refusal to conform to dominant norms. According to Muñoz, disidentification is not only an artistic strategy for survival and emancipation for precarious people but also a form of criticism of their living conditions in society. It is a construction of identity in hybrid, moving, comic or melancholic and sometimes hidden forms that reflect a vagabond and queer life. Topics proposed and prepared by the 2017 edition : To create : Boychild, Rébecca Chaillon, Désidentification, Lasseindra, Paul Maheke, Kiddy Smile, Carmelita Tropicana, Ela Troyano, Elvan Zabunyan To translate : José Esteban Muñoz, Paris is Burning, Vaginal Davis,
Wu Tsang
To improve : Jean-Michel Basquiat, Mykki Bianco, Felix Gonzalez-Torres, Ana Mendieta, Toni Morrison To connect : désidentification, voguing, intersectionnalité DISIDENTIFICATION José Esteban Muñoz José Esteban Muñoz (1967-2013) was an American theorist of Queer aesthetics and politics. His first book "Disidentification: Queer of colors and the Performance of Politics" (1999) examines color queer performance, survival and activism in arts. Based on descriptions of very different artistic practices (Félix Gonzalez-Torres, minimalist artist ; Vaginal Creme Davis, performer ; Marga Gomez, comic; Jean-Michel Basquiat, painter and Marlon Riggs, director), Muñoz forges the concept of disidentification. The public are invited to create or improve Wikipedia articles on this subject and the artists that Muñoz takes as examples and as case studies. Talks and performances by artists, philosophers and intellectuals (Vaginal Cream Davis,
Hypatia Vourloumis
, Elvan Zabunyan) will complete this program by presenting Muñoz's legacy.
Wu Tsang
Closely related to José Esteban Muñoz thought and inspired by one of his followers Fred Moten's writings,
Wu Tsang
proposes a new work for Editathon 2017 which resonates with the theme of disidentification. The work of
Wu Tsang
confronts gender issues and our society more broadly. Whatever the medium used (cinema, photography, party or performance), one theme returns like a leitmotiv: aesthetics of Drag and playing with gender identities. Often with her own body.
Wu Tsang
seeks to sublimate traditional representations of desire as well as our proximity to each other. According to her, "being queer surely makes you braver".
Wu Tsang
became famous in 2012 with her film WILDNESS premiered at the MoMA Documentary Fortnight in New York. WILDNESS is a portrait of the Silver Platter, historic, LGBT-friendly bar on the eastside of Los Angeles that has catered to the Latin immigrant community since 1963. The film poses questions about identity and sharing of safe space/free space, two major dimensions of feminist emancipation.
Wu Tsang
exhibited at the MoMA, Tate, Whitney. For FIAC 2016, she realised a monumental installation in partnership with Swarovski that echoes a scene from "The Wizard of Oz". Saturday, March 4 2pm: Guided tour of the exhibition
Présumées coupables
with Pierre Fournié, general heritage curator 3:30pm: Discussion-performance between
Wu Tsang
, artist and Vaginal Davis, performer 5:30pm: Talk by Elvan Zabunyan, art critic and art historian 7pm: Performance by Boychild and
Bendik Giske
8pm: Drink Sunday, March 5 3:30pm: Talk by Kvardek du, wikipedien-ne 5:30pm: Talk by
Hypatia Vourloumis
, Performance Studies specialist 7pm: Drink 9:30pm: Party at La Colonie with Polychrome, DJ Queen Ci and DJ Vikken Curated by
Flora Katz
Produced by Lafayette Anticipations, Fondation d'entreprise Galeries Lafayette in the context of the global Art+Feminism campaign. In partnership with Wikimédia France, University Sorbonne Nouvelle - Paris 3 and the Archives nationales. Organization: Kvardek du and
Flora Katz
, with the productions of
Wu Tsang
.