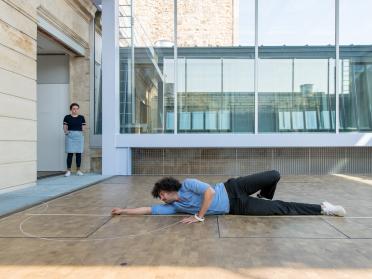 Radouan Mriziga
addresses dance through the prism of architecture. Following precise protocols of choreographic construction, his performances make and unmake spaces for both his dancers and audiences alike. More often than not, Mriziga uses the bodies of his performers as his starting point. Putting them to use as measuring instruments, he creates shapes on the ground which recall the tradition of islamic geometric motifs.
7
is the last installment in a choreographic trilogy that Mriziga has developed using gestures and actions of construction to generate dance. This piece brings together six dancers and one musician around the fantasy of the seven wonders of the world and their disproportionate relationship with the human body. In this group piece, Mriziga confronts moving bodies with the symbolic power of architecture. Readapted for Lafayette Anticipations' spaces,
7
takes shape via a finely-crafted choreographic progression, which embraces the venue's spatial features. It prompts the audience to continually adapt their perception of what they see before them, and to reconsider their own position within the space.
Concept / Choreography
:
Radouan Mriziga
Co-created and performed by
Radouan Mriziga
, Maïté Jeannolin, Zoltán Vakulya, Bruno Freire, Eleni-Ellada Damianou, Lana Schneider, Suhad Najm Abdullah
Visual artist
: Lana Schneider
Musician
: Suhad Najm Abdullah
Costume
: Annabelle Locks
Dramaturgical advice
: Esther Severi
Artistic advice
: Alina Bilokon
Image
: Maïté Álvarez
Assistant
: Sara Chéu
Thanks to
: Jozef Wouters
Production
Moussem Nomadic Arts Center (Brussels - BE)
Distribution & Tour Management
Something Great (Berlin - DE)
Co-production
Kaaitheater (Brussels - BE), Kunstenfestivaldesarts (Brussels- BE), Sharjah Art Foundation (Sharjah - UAE), C-Mine cultuurcentrum Genk (Genk - BE), Vooruit (Ghent - BE), PACT Zollverein (Essen - DE) In the context of European Network DNA (Departures and Arrivals) co-funded by the Creative Europe Program of the European Union In collaboration with: Kunstenwerkplaats Pianofabriek (Brussels - BE), Charleroi Danses Centre Chorégraphique de la Fédération Wallonie-Bruxelles (Charleroi - BE), STUK - House for Dance, Image & Sound (Leuven - BE)
First performed on the 17th of May 2017 at the Kaaitheater (Brussels) as part of the Kunstenfestivaldesarts.