16 MM
Daniel Steegmann Mangrané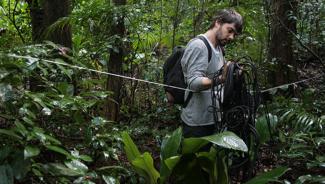 Born in 1977 at Barcelone (Espagne), lives and works in Rio de Janeiro (Brésil).
Medium:
Film. 5.33 minutes
Courtesy:
Courtesy Esther Schipper, Berlin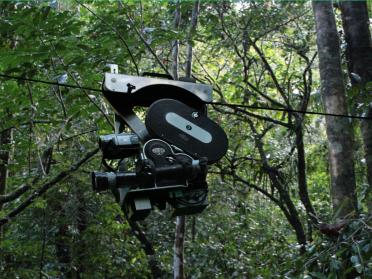 16 MM is a continuous 5'33" forward tracking shot captured in the Mata Atlântica, south-western Brazil. The film, consisting of an overhanging shot, evokes the miraculous images of the mythical jungle.
This hypnotic effect is produced by a filming system that required the help of engineer Stefan Knauer: the camera was modified so that a single motor would drive both the film reel and the tracking. The standard length of the film on a 16-mm reel corresponds to the distance the camera travelled along its cable, around 61 metres, shot in real time, 3 metres above the ground. The choice of the Mata Atlântica forest is highly eloquent. From the time when it was "discovered" by the Conquistadores to the postcolonial era, the jungle has inspired many economic, ecological, scientific and territorial conflicts.