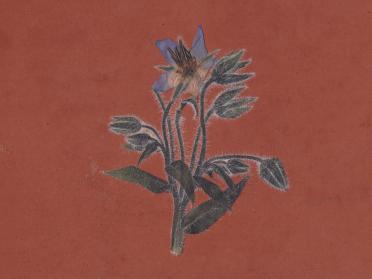 Online event since 1 year et 9 mois
Online event since 1 year et 9 mois
Online event since 1 year et 9 mois
From the wasteland, Flavien Berger
Thursday 02 Sep 2021 from 5pm to 6pm
This tape is the harvest of a year and a half of fallow land, sprouts of compositions, wild pieces, fantasies for the wasteland, celebrating the dandelion, freedom and untamed grasses.
From the wasteland (De la friche) is a serie of musical studies on urban vegetation, a kind of plantasia but more streetwise, a modest bouquet for pickers on a stroll.

Mostly instrumental, it also features a collaboration with Bilou, and a poem by Maya de Mondragon.

The cassette will be released on Pan European Recording during autumn and will be on sale at the Foundation's shop, A Rebours.

Crédit image: Maya de Mondragon.
En jouant avec les mots pour créer des histoires d'amour, en testant des sons tourbillonnants, le compositeur autodidacte s'est fait rapidement un nom en apportant un vent de fraicheur à la scène française.
Flavien Berger, membre du Collectif sin~ travaillant sur l'expérimentation, a toujours été intéressé par le bidouillage de machines. Sur ce point, son style est dur à définir.
Le parisien s'en affranchit, mélangeant habilement les passages effrénés et les longues plages de synthétiseurs. Flavien Berger joue sur les variations de dynamiques et l'auditeur se balade entre des montées fulgurantes et des sombres descentes.
Écouter ses disques ou le voir jouer sur scène confirme son génie à emmener le public dans une expérience émotionnelle profonde, pleine d'imagination.
Ecrit et composé par Flavien Berger
« Germs » écrit et composé par Flavien Berger et Bilou
« De la Friche » écrit et lu par Maya de Mondragon
Masterisé par DK, Paris
Fields recordings : Oaxaca, Mexique; Kho Yao Noi, Thaïlande; Anderlecht, Belgique
Enregistré à Bruxelles en 2020-2021
face a
variations dandelion i
vingt heures
doggo cc22
papuru savon
friche partout 1
labo
variations dandelion ii
elles feront long feu
friche partout 2
internet miroir
hishi
face b
fantaisie nécéssaire
mauves
friche partout 3
chaudeville un et deux
Germs avec Bilou
chaudeville trois
il semblerait
variations dandelion iii
fantaisie du crépu
friche partout 4
carmelita