Warm Up Session x Echelle Humaine #1
Saturday 21 Sep 2019 from 9:30am to 11am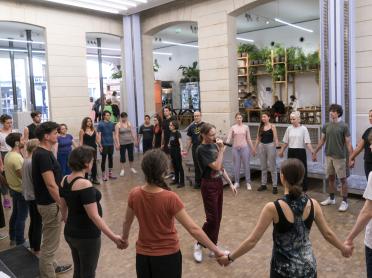 With Sophie Demeyer and Katia Petrowick from Gisèle Vienne Company
Warm Up Sessions joins forces with the second edition of the Échelle Humaine festival to present the training technique deployed in Gisèle Vienne's piece, Crowd (produced at the Festival d'Automne à Paris, September 25-28, 2019). What place is allotted to individual conditioning in this representation of collective euphoria? Is it possible to sustain a distinct performer's agency in a polyphonic choreography, delicately balanced between violence and eroticism? We will explore these questions and many more through movement and discussion with Sophie Demeyer and Katia Petrowick, members of the Gisèle Vienne Company.

Recommended to wear comfortable clothes to move in, open to all.

Warm Up Sessions : a training for the body and mind. From jumpstyle to ballet, from break dance to contemporary, practice then discuss the indispensable movements and gestures that anticipate a performance - the ultimate moment of sharing with an audience. Each Session will begin with a warm up led by the invited dancer or collective, and will be followed by a discussion on themes bridging body movements and social realities : the performativity of the human condition, circulations and physical disruptions in a decorporalized era. With the Warm Up Sessions, we aspire to associate bodily effort with mindful effervescence.

A series curated by Madeleine Planeix-Crocker.
Née en 1982 Sophie Demeyer a commencé sa formation au Conservatoire régional de Montpellier avec Rita Quaglia. Elle a ensuite poursuivi ses études à Angers au Centre National de la Danse.
Elle a travaillé avec Annie Vigier & Franck Apertet (Cie les gens d'Uterpan), Thibaud Croisy, Julien Prévieux, Geisha Fontaine et Pierre Cottreau. En 2015, elle rejoint l'équipe de Gisèle Vienne pour les reprises à l'international d'I Apologize et Kindertotenlieder et la création de Crowd.
Formée au Conservatoire National Supérieur de Danse de Paris, Katia Petrowick est interprète pour Marilèn Breuker, Stéphanie Chêne, Eric Senen, Dominique Boivin et Dominique Rebaud, Katalin Patkaï et Luc Petton. En parallèle, elle se forme en clown au Centre National des Arts du Cirque en 2008 et participe à la création du trio de clowns La Mort... ça m'intéresse pas! mis en scène par Stéphanie Constantin.
Depuis août 2014 elle est interprète pour la compagnie québécoise Estelle Clareton Créations dans le duo jeune public Tendre en tournée au Canada. En 2015, elle rejoint l'équipe de Gisèle Vienne pour les reprises à l'international d'I Apologize, Kindertotenlieder et la création Crowd. En 2016, elle collabore avec la compagnie lilloise La Ruse/ Bérénice Legrand pour des actions artistiques en milieu scolaire et débute la formation d'éducatrice somatique par le mouvement (Body-Mind Centering®). En 2017, elle danse au côté de la chorégraphe Elodie Sicard dans le duo Les Assaillants. Depuis mai 2009, elle co-dirige la compagnie L'Embellie Musculaire avec la marionnettiste Ombline de Benque, au sein de laquelle elle présente les créations jeune public CoNg COng coNG, PULL OVER et JOGGING et des performances in situ avec Le Vestiaire, laboratoire de recherche autour de la danse et l'art textile.
The lafayetteanticipations.com website uses cookies for audience measurement purposes.
By continuing your navigation on this site, you accept their use.