Warm Up Session with Emma Depoid and Camille Dagen
Saturday 06 Nov 2021 from 10am to 11:30am
Free workshop, booking mandatory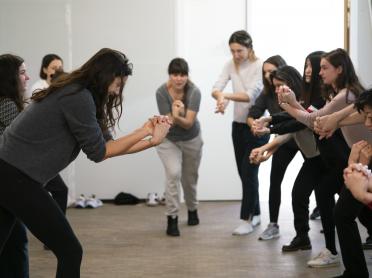 For this Warm Up Session, the artists Camille Dagen and Emma Depoid invite us to discover and experiment with their rehearsal "protocols".
We look at "small forms" of performance, conceived from the deconstruction of scenographic techniques (for example: exploring what is a framing) or dramaturgical mythologies, such as the labyrinth.

It's a time of collective improvisation at the heart of the creative processes of the invited artists.

A cycle curated by Madeleine Planeix-Crocker.
Sportswear recommended, all levels.

In partnership with the Festival d'Automne à Paris.

-

The Warm Up Sessions stem from the desire to collectively discover, embody and question training techniques in performance. The series aims to situate the warm up as a vital step in the creation of performance pieces. Thus, training is understood as a starting point for choreographic, dramaturgical or performative productions, both a process of sharing and reflecting.

Based upon inclusive invitations, the Sessions seek to deconstruct silos between movement and thought. The series offers a space to practice and discuss, open to all, and conceived in close partnership with guest artists. In this experimental terrain, audience members become active participants, giving birth to an ephemeral and recurring event.
Camille Dagen est une metteuse en scène et auteure qui a étudié à l'ENS (Paris) en philosophie et théâtre, puis intégré le TNS (Théâtre National de Strasbourg), section jeu en 2014.
Elle fonde avec Emma Depoid la structure Animal Architecte en 2017 à Strasbourg, autour du désir de développer des formes hybrides faisant dialoguer dramaturgie de plateau, écriture et dispositif scénographique et technique.
Durée d'exposition, le premier spectacle d'A.A, structuré à partir d'un manuel de photographie argentique, reçoit le prix du public et le prix du jury du festival Fast Forward (Dresde). Il tourne en France et en Europe depuis 2018. L'équipe de création de Durée d'exposition se retrouve et s'agrandit pour leur deuxième création, BANDES, créé en novembre 2020 au théâtre du Maillon, écrit et mis en scène par Camille Dagen en étroite collaboration avec la composition de l'espace d'Emma Depoid. Animal Architecte crée également « Conjectures sur Jakob » en allemand sous-titré français; à Dresde, avec l'ensemble du Staatschauspielhaus Dresden, adaptation du roman d'Uwe Johnson réalisée et mise en scène par Camille dans un décor d'Emma (la première de la pièce est reportée à l'automne 2022 du fait du contexte sanitaire).
Camille Dagen travaille par ailleurs comme comédienne et performeuse pour Julien Gosselin, Joris Lacoste, Vanessa Larré, Damien Houssier ou Sylvain Creuzevault.
Emma Depoid a étudié les arts appliqués aux écoles Boulle et Duperré avant d'entrer au TNS en section scénographie et costumes.
Elle y rencontre Camille Dagen avec laquelle elle fonde à Strasbourg la structure Animal Architecte en 2017, autour du désir de développer des formes hybrides faisant dialoguer dramaturgie de plateau, écriture et dispositif scénographique et technique.
Elle développe par ailleurs la scénographie de Triumvirus (2017), Morphine (2019) pour Nina Villanova, de Ivanov (2018) pour Christian Benedetti, celle de Bamako-Paris (2019) pour Cécile Cotté, celle de Full Circle (2019) pour Kaspar Teinturier-Fink, celle du Square (2019) pour Gérard Elbaz. En 2020, elle conçoit les espaces de Bandes et Mutmassungen, mis en scène par Camille Dagen. Elle scénographie également Tiens ta garde, du Collectif Marthe.
En 2021 elle conçoit les costumes de Baskets rouge pour Aurore Déon, ainsi que la scénograophie de Barbare (une odysée) de Mélodie Lasselin et Simon Capelle. Elle assiste également le scénographe Alban Ho Van sur la prochaine création de Anna Noziere (Esprits).Par ailleurs elle crée l'espace et développe avec Camille Dagen et Eddy D'aranjo une création commune, Archives du présent, au théâtre Olympia de Tours où ils sont tous les trois artistes associé.e.s.