Upcycling! with designer SEVALI
Saturday 06 Nov 2021 from 1pm to 2pm, from 2pm to 3pm, from 3pm to 4pm
Sunday 07 Nov 2021 from 1pm to 2pm, from 2pm to 3pm, from 3pm to 4pm
Family week-end
7-12 years old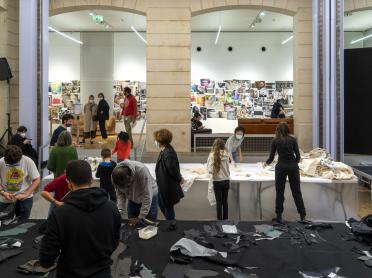 The designer Sevali invites families to explore together the links between upcycling and art. He proposes to share his know-how with the public by imagining the creation of a large collaborative work from textile scraps and reused clothing.
The result? Large painter's canvases covered with fabrics all in blue tones but with different textures (velvet, waxed cotton, scratch...) are assembled using several techniques by the public.
Born in Santiago (Chile), Sebastian A. de Ruffray is a fashion designer.
He is the artistic director of SEVALI, a Paris-based fashion brand strongly oriented towards sustainable development issues. After studying in Milan and Saint Martins in London, he developed a work based on recycling and craft techniques.