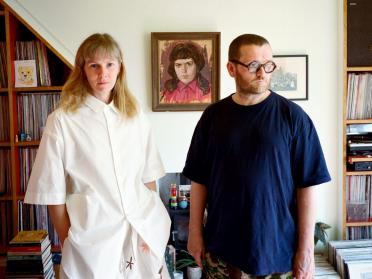 Online event since 1 year et 2 mois
Online event since 1 year et 2 mois
Online event since 1 year et 2 mois
Time is away, Voice Through a Cloud
Thursday 24 Mar 2022 from 7pm to 8pm
A mixtape that resonates with the themes of Xinyi Cheng's exhibition: intimacy, softness, spoken words...
Concocted by Elaine Tiernay and Jack Rollo from the cult show Time is Away on the British webradio NTS, known for its eclectic and radical programming.

"A dance through awkward interactions.
Voices from the next room.
Scenes change, then change again, according to dream logic.
Is it your social security number or mine?"
Time is Away (Jack Rollo and Elaine Tierney) work across radio, research and site-specific sound-works.
Over eight years as residents on NTS Radio, they have combined spoken word, field recordings and music as part of an ongoing reflection on the relationship between time, place and power. Recent commissions include the Arts Council England-funded solo exhibition 'Fable of the Bees' (Black Tower Projects, UK, 2020), 'Prospect Cottage 1989–90' (La Becque, Switzerland, 2020), 'Countercultural Bohemia as Prefiguration' (Repeater Books / ICA, UK, 2021) and Raid on the Medway (TACO! / Estuary Festival, UK, 2021)
Harmony 400 - Crescent
Zonin DJ - Untitled (Interview Mix)
Hermann and Klein - A Day in a Park
E-Plume - Kiki's Gambert
Brindle Spork - Wild Why
Solvent - Hergly Bergly (Less Mad Andy Mix)
Phonem - Un Barrage Contre Le Pacifique
Sunwoods - Something Wonderful
Stendec - Arvo
Languis - Stop Action
Roland P Young - Velvet
Crawling with Tarts - Miners Wash
Blu Cocteau - Lo Hex