Tada !
Wednesday 12 Feb 2020 from 6:30pm to 8pm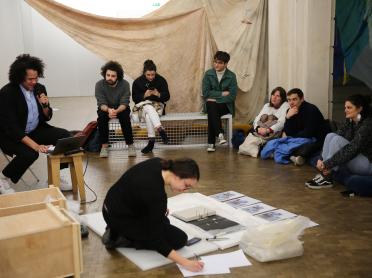 During this event, Jesse Darling's work "Untitled" (2019) from the Lafayette Anticipations Collection - Fonds de dotation Famille Moulin is presented to the public, who is invited to witness its unpacking and installation.

With this piece, consisting of storage binders and concrete, Jesse Darling evokes the weight of administrative rules in everyday life. The interventions of Lisa Audureau, in charge of Lafayette Anticipations' collection, and Cédric Fauq, curator, allow a 360° evocation of the work: conservation, installation and exhibition protocol, storage, production context, artistic references...

TADA! is a performative, pedagogical and panoramic event to cross views and approaches around the same object.
Jesse Darling is an artist working in sculpture, installation, video, drawing, text, sound and performance. He lives and works between London and Berlin.
Their work is broadly concerned with what it means to be a body in the world, though what that means is both politically charged and culturally determined. Their practice draws on their own experience as well as the narratives of history and counterhistory. To be a body is to be inherently vulnerable, which extends to the "mortal" quality of empires and ideas as a form of precarious optimism - nothing and no-one is too big to fail, and this for Jesse Darling is the starting point for a practice in which fallibility and fungibility are acknowledged as fundamental qualities in living beings, societies and technologies. Imagining the 'high church of the modern' as a moveable or precarious tabernacle, Jesse Darling's works and writing feature an array of free-floating consumer goods, liturgical devices, construction materials, fictional characters and mythical symbols detached from the architectures, hierarchies and taxonomies in which they have their place.Jesse Darling's recent projects include the participation at 58th Venice Biennale, Venice (2019), a solo show 'Crevé' at Triangle France - Astérides, Marseille (2019), a solo show as part of Art Now, Tate Britain, London (2018), a participation in 'A Cris Ouverts', Biennale d'art contemporain, Rennes (2018) and in 'Metarmophõseõn', Galerie Sultana, Paris (2018).Jesse Darling has received commissions from MoMA Warsaw, The Serpentine Gallery and Volksbuhne Berlin among others. Their past solo exhibitions include 'Support Level', Chapter, New York (2018), 'Armes Blanches: History is Other People' at Galerie Sultana, Paris (2017) and 'The Great Near' at Arcadia Missa, London (2016), as well as duo exhibition 'Atrophilia' with Phoebe Collings-James at Company Gallery,New York (2016) and group exhibitions as part of 'Give Up the Ghost', Baltic Triennial 13, Tallin (2018), 'Docile Bodies', Vitrine, London (2018) and Glasgow International (2018). JD has published texts in print and online including The Best British Poetry 2015 (Salt Press); Mass Effect: Art and the Internet in the 21st Century (MIT Press, 2015); Art After the Internet (Cornerhouse Books, 2014).
Cédric Fauq (1992) est un commissaire d'exposition français vivant à Nottingham (Grande-Bretagne).
Il y occupe le poste de curator (département expositions) à Nottingham Contemporary, où il travaille depuis Septembre 2017; il y développe des projets d'expositions (Still I Rise: Feminisms, Gender, Resistance; Sung Tieu: In Cold Print; Grace Before Jones: Camera, Disco, Studio); de performances (Okwui Okpokwasili; Steffani Jemison; Lou Lou Sainsbury) ainsi que des publications. En parallèle, il écrit et développe des projets en indépendant [DOC, Paris (2018); Sophie Tappeiner, Vienna (2018); Nir Altman, Munich (2019); Cordova, Barcelone (2020); Litost, Prague (2020)]. Il a co-dirigé clearview.ltd à Londres (2016–2018); et était membre de l'équipe curatoriale de la Baltic Triennial XIII (2017-2018).