Sorour Darabi
Wednesday 23 Sep 2020 from 5:30pm to 6:10pm
Thursday 24 Sep 2020 from 5:30pm to 6:10pm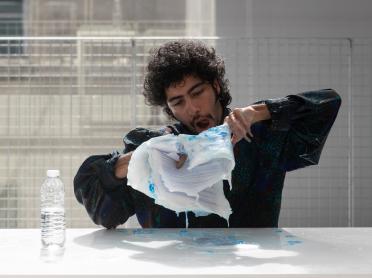 Sorour Darabi
Farci.e, 2016
What can a discourse on identity and gender mean if it is formulated in a language that assigns a gender to the words themselves? This is the silent question posed in this solo by the Iranian artist Sorour Darabi.

In Farsi, his mother tongue, the language in which he.she began to think and name things, there is no genre, neither for objects nor for ideas.

The word gender is "جسن†ی†ت" (jenssiat), which means matter. When it is applied to objects, it designates their materiality: the genre of the word table is wood, metal, or melamine. By analogy, for Sorour, his kind is skin, muscles, bones, vessels. But then, what is the gender of the word gender itself? What is its material? How can one think in a language that gives genre to ideas?

In French, an object that we can't name becomes "a thing". Therefore, is a body that we can't generate a thing a thing? But une chose, in French, is feminine, isn't it? Are all things feminine? The word feminine is masculine, however.

Show created in 2016 at the Montpellier Danse festival.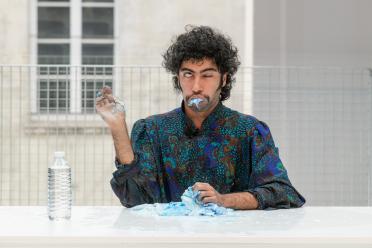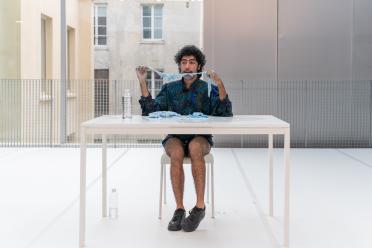 Très actif.ve en Iran, Sorour Darabi fait partie de l'association souterraine ICCD dont le festival Untimely (Téhéran) a accueilli ses travaux avant son départ pour la France.
Durant ses études au CCN de Montpellier il-elle crée le solo Subject to Change, une performance qui interroge la transformation à travers le temps et la cohabitation avec l'environnement. En 2016, il-elle crée Farci.e, et en 2018 Savušun au festival Montpellier Danse. Il.elle travaille actuellement sur deux solos : Mowgli et Natural Drama.