Oto Nove Swiss Paris Festival
Sunday 23 Feb 2020 from 5pm to 9pm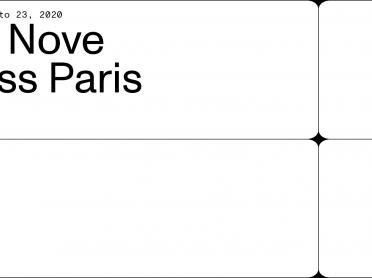 Lafayette Anticipations, Centre culturel suisse, the Instants Chavirés and the Petit Bain host the first Parisian edition of the experimental music festival OTO NOVÉ SWISS.

After two editions at the Café OTO in London, the third incarnation of the festival takes place for the first time in Paris and features concerts, performances and DJ sets by artists.

At Lafayette Anticipations, the festival welcomes the sound and visual artist Felicia Atkinson, the paradoxical music of the Japanese Tujiko Noriko and the Swiss guitarist Manuel Troller.

Oto Nové Swiss is an initiative of Südpol Lucerne, Bad Bonn and Präsens Editionen for the diffusion of experimental Swiss music.
Complete program to be found on the website of Oto Nové Swiss Paris.
Félicia Atkinson is a visual artist and experimental musician born in Paris and currently residing in Rennes.
She is a graduate of the Ecole Nationale Supérieure des Beaux-arts de Paris and has also followed the Bocal pedagogical course at the initiative of choreographer Boris Charmatz. Her music is a combination of improvisation and superimposed composition, as an abstract and mysterious woven material, where the voice meets electronics, acoustic instruments, electric distortions. His various opuses, from cassettes to records, including CDs and CD-Rs, have already been published by labels such as Home Normal, HIbernate, Spekk, Cooper Cult by Fluid Audio and also a radio piece by French cultural radio. She also performs and records under the pseudonym Je Suis Le Petit Chevalier and is part of the duo Naked Island with Ensemble Économique (Peak Oil). She has performed in venues as diverse as the Palais de Tokyo in Paris, Café Oto in London, Issue Project Room in New York, Fylklyggen in Stockholm, and the Maison de France in Rio de Janeiro. S Felicia Atkinson co-directs with Bartolomé Sanson Shelter Press Editions. She is currently in residence in La Becque, Switzerland.
Born in Osaka and living in Paris region, Tujiko Noriko composes a music made of successive layers nourishing smooth rhythms and deliberately destructured melodies. As a composer, she released the music for an experimental film she also directed, "Kuro", on Pan records and recently finished a film score for a feature film called "Surge".
Manuel Troller, est un guitariste de son temps et du nôtre. Sa guitare électrique a survécu à la révolution de la musique électronique en s'appropriant ses modèles, ses méthodes et son caractère abstrait sans trahir sa propre histoire.
La guitare électrique de Troller n'est ni un accessoire d'excitation ni un instrument d'agitation. Le mode de jeu de Troller ne transforme pas les émotions, les associations et les souvenirs en sons - encore moins de les imposer à l'auditeur. Il les laisse simplement s'exprimer. Sa musique ne nous dit pas ce que nous écoutons et ce que nous devrions ressentir, elle nous montre seulement - avec la plus grande clarté possible - que nous sommes encore capables d'émotion. Il a collaboré avec Sophie Hunger, Gerry Hemingway, Julian Sartorius, Hans Koch, Frantz Loriot, Stephan Eicher, Merz parmi de nombreux musiciens.