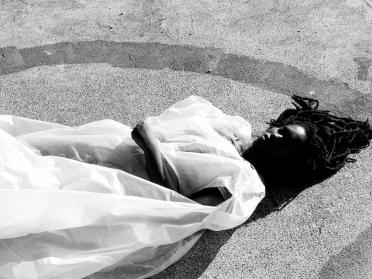 Online event since 2 years et 2 mois
Online event since 2 years et 2 mois
Online event since 2 years et 2 mois
Mixtape Moor Mother
Thursday 08 Apr 2021 from 5pm to 6:20pm
Camae Ayewa aka Moor Mother - activist artist, poet, musician and singular figure of Afro-Futurism - draws from a wide range of influences, distilling through this range of musicians a black history of yesterday's and today's struggles to compose this mixtape, for Lafayette Anticipations.
Between painful reanimation of the past and exalted futurism, between poetry and politics, Moor Mother pays homage to the commitment of these artists, from the radical saxophone of Roland Kirk to the hip-hop collective Digable Planets, from a sublime jazz ballad by Cécile McLorin Salvant to the uncompromising grindcore of Duma (NyegeNyege Tapes).
Moor Mother est l'artiste visuelle interdisciplinaire, musicienne et poète basée à Philadelphie, Camae Ayewa.
Camae Ayewa (Moor Mother) s'est produite dans de nombreux festivals, galeries et musées à travers le monde, partageant la scène avec King Britt, Roscoe Mitchell, Claudia Rankine, Bell Hooks, et bien d'autres.
Camae est chanteuse dans quatre groupes de performance : Irreversible Entanglements, Moor Jewelry, 700bliss et ZONAL.
Fin 2016, elle a sorti son premier album Fetish Bones sur Don Giovanni records, salué par la critique. Fetish Bones a été nommé 3e meilleur album de l'année par The Wire Magazine.
Elle a depuis sorti The Motionless Present, et a été à la tête des groupes Irreversible Entanglements et Moor Jewelry et 700bliss.
Grâce à son énergie inépuisable, elle s'est récemment produite dans une foule de festivals importants, dont Borealis, CTM, Le Guess Who ?, Unsound, Flow, Rewire et Donau.
En novembre 2019, elle sort Analog Fluids of Sonic Black Holes sur Don Giovanni, qui a été salué par la critique.
Ahmad Jamal feat Yussef Lateef - Poinciana (live)
Digable Planets - For Corners
Roland Kirk Quartet - A quote from Clifford Brown
Hugh Masekela - Melodi Letta Mbulu
Hugh Masekela - The boy's doin it (Carl Craig remix)
Miriam Makeba - A piece of ground (Live at Lincoln Center)
Duma - Lionsblood
Ase Manuel - Lawdaa Mercy
Georgia Anne Muldrow - New Orleans
Eko - Kilimandjaro My Home
Cécile McLorin Salvant - Le front caché sur tes genoux
Georgia Anne Muldrow - Patience
Miriam Makeba - Malaika
Mikah 9 - Life or Dea
Roland Kirk Quartet - Slippery hippery flippery
Moor Mother & Billy Woods feat Navy Blue - Portrait
Mf Doom - Change the best