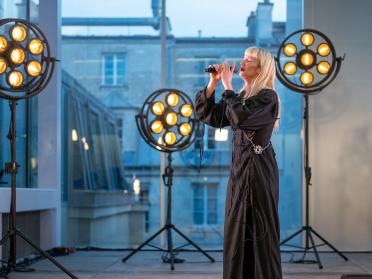 50sec
Online event since 1 year et 12 mois
Online event since 1 year et 12 mois
Online event since 1 year et 12 mois
Lyra Pramuk
Sunday 06 Jun 2021 from 4:45pm to 5:25pm
In many ways, Lyra Pramuk's approach pushes the limits of our perception and opens up new ways of thinking about our relationship to sound and music.
Refusing to be categorised as an experimental artist, Lyra Pramuk creates lyrical and post-human music that exists beyond the question of gender and respect for tradition.

Her album The Fountain is a narrative trip between ambient and post new age music tinged with spirituality and transcendental questioning.

Lyra Pramuk reveals the extent of her vocal and melodic talent while inviting us into a form of almost unreal illumination with a fascinating beauty that exists beyond words and known references.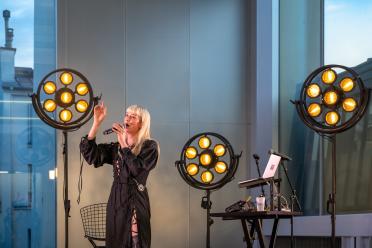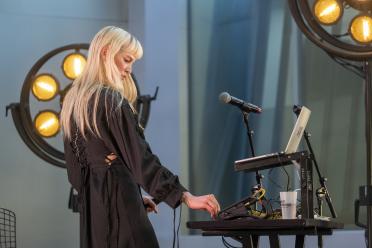 Lyra Pramuk fusionne le chant classique, les influences pop, la performance et la culture club dans ce qui pourrait être décrit comme une musique folk futuriste.
Lyra Pramuk tisse de nombreuses collaborations avec des artistes comme Holly Herndon, Colin Self ou l'artiste visuelle Donna Huanca, et mène également des projets d'écriture en freelance ainsi que des recherches autour de la performance - autant de sources de création qui viennent alimenter sa pratique.
Pour Pramuk, la voix se déploie avec le plus d'imagination et de puissance là où la musique électronique est conçue comme un spectre modulaire. S'appuyant sur un travail de captation ainsi que sur la performance comme un processus d'échantillonnage et de synthèse, les genres sont mélangés et étendus, tout en revenant à son impulsion de départ, à savoir la narration comme chanson, et la chanson comme moyen de court-circuiter les structures que l'on nous a fait accepter comme une réelle différence dans ce monde.