Issy Wood, live music performance
Thursday 19 Oct 2023 from 7pm to 8pm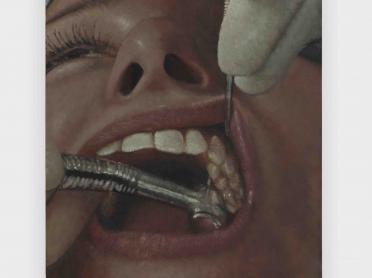 Alongside three musicians, Issy Wood performs live for the second time at Lafayette Anticipations, in the context of her solo exhibition "Study For No".
Composed on a synthesizer in her kitchen, artist Issy Wood's songs share the same mix of intimacy and corrosiveness as her visual and written works.

Wood's music tells us of daily discomforts, obsessive gestures and disappointments, borrowing as much from electronic and experimental pop as from introspective rock and folk tones. Her songs balance an ethereal, vaporous voice with sharp, sometimes danceable rhythm – a contrast that mirrors the upheavals and disappointments present in her lyrics. Wood sings about strategies of concealment, recipes for seduction and revenge. With a sense of humor that takes nothing away from her cynicism, she names both the fear of rejection and the necessity of solitude.

After one album and multiple EPs, Wood gave her first concert last May.

Wood's work has recently been presented at the ICA Miami (2022); the Hayward Gallery, London (2021); LACMA (2021); Goldsmiths Centre for Contemporary Art (CCA), London (2019); the Schinkel Pavillon, Berlin (2019); amongst others. This year, a solo presentation of Wood's work is taking place at the Ilmin Museum, Seoul.