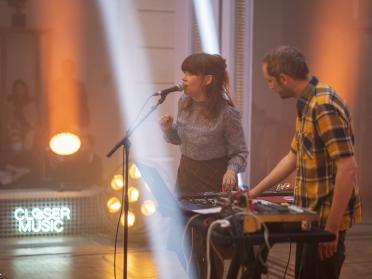 46min
Online event since 1 year et 9 mois
Online event since 1 year et 9 mois
Online event since 1 year et 9 mois
Heimat
Saturday 05 Jun 2021 from 7:45pm to 8:25pm
Since its beginnings, Heimat's music has been as much about spontaneity as it has been about erasing landmarks and boundaries.
Navigating somewhere in the murky waters of an imaginary folk music tinged with lofi and raw synth punk, the duo formed by Olivier Demeaux (Cheveu, Accident Du Travail) and Armelle Bisou Bisou (The Dreams) is unlike any other.

On Zwei (aptly named second album released by Teenage Menopause), Heimat has polished its production but not its sound madness. The ghosts of the likes of Captain Beefheart, Nico, Throbbing Gristle, RZA and Sun City Girls can be heard.
Armelle O. et Olivier Demeaux façonnent avec Heimat une pop électronique singulière, mêlant mélodies orientalisantes, chant germanique et un goût prononcé pour le  copié-collé-charcuté de références et d'anecdotes surréalistes.
Aux côtés de leurs projets respectifs (ex-cheveu, The Dreams), Heimat représente une capsule hors du temps dédiée à l'imaginaire fertile de ces deux féru·e·s de musique qui façonnent un son distinct voir unique.
ZWEI, le second album du duo, sort le 7 mai chez Teenage Menopause RDS.