Guided tour – Lutz Bacher, The Silence of the Sea
Every day except for Tuesday from March 26 to April 30, 2018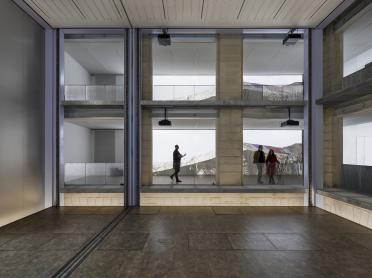 Lafayette Anticipations offers independent visitors the possibility of discovering the exhibition spaces in the company of a tour guide. These visits are led by cultural mediators.
Guided tours take place on the following days and times:
Monday, Wednesday, Thursday, Friday and Saturday: 6pm
Sunday: 4pm and 5:30pm

Upon presentation of a ticket to Lutz Bacher's exhibition, The Silence of the Sea.
Throughout a career of over 40 years, Lutz Bacher has constructed works that defy all forms of classification.
The American artist, who adopted a masculine pseudonym as of her first pieces, has produced conceptual works by using diverse media. Her photographs, sculptural arrangements, videos, sound pieces and installations gather objects and images inscribed in our collective imaginaries. Featured constitutive elements of Lutz Bacher's pieces include: pictures of public personalities found in press that, once copied repeatedly, take on a new life, as well as every-day objects, rubbish collected in second-hand stores then integrated into ready-mades installations, used balloons, marble and sand. Her appropriations recall pop culture, airport novels, pornographic magazines, popular psychology books, paparazzi snapshots and, from time to time, allude to art history. The human body, sexuality, power and violence are key themes in Lutz Bacher's work, as are the current state of things and beings, and the fine line between public and private spheres. Recent solo shows: More Than This, Secession, Vienna (2016) Magic Mountain, 356 Mission, Los Angeles (2016) Lutz Bacher, Aspen Art Museum, Colorado (2014) Into the Dimensional Corridor, National Gallery of Denmark, Copenhagen (2014 - 2015) Black Beauty, Institute of Contemporary Art, Londres (2013) Snow, Kunsthalle Zürich, Zürich (2013) Spill, Contemporary Art Museum, St. Louis (2008) Lutz Bacher's pieces are included in the permanent collections of numerous museums, namely: Museum of Modern Art, New York Metropolitan Museum of Art, New York Whitney Museum of American Art, New York Art Institute of Chicago, Chicago Walker Art Center, Minneapolis UC Berkeley Art Museum and Pacific Film Archive, Berkeley
The lafayetteanticipations.com website uses cookies for audience measurement purposes.
By continuing your navigation on this site, you accept their use.