Dimitri Chamblas, Slow Show
Sunday 09 Feb 2020 from 3:30pm to 4pm, from 4:30pm to 5pm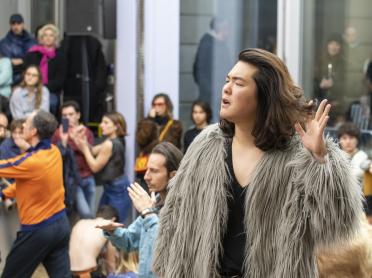 Slow Show is a collective dance, intense and agitated, whose visible repercussions are minute, precise and concentrated. Rooted in the principles of trance, exultation, telepathy, the performance, conceived and created by the dancer and choreographer Dimitri Chamblas, for and with a group of 50 participants, reveals their strength and vivacity through movements slowed down to the extreme, almost imperceptible, almost invisible.
The invisible is not emptiness, nor calm, nor absence. It is here the sign of what happens, densely, inside bodies. The music, sound waves made of samples, live electronics, real sounds and guitar, is specially designed for each place by the Californian artist, musician and DJ Eddie Ruscha.

Each iteration of the Slow Show is unique. The first took place in Los Angeles in February 2019, at the famous Kings Road House in West Hollywood, then a second version was created in Luma Arles in July 19. This third version, produced by Lafayette Anticipations in collaboration with the MC93 of Bobigny, brings together 50 people of all ages and backgrounds, who prepared the performance in three preliminary workshops.

Slow Show is a workshop and a public presentation, a way for the inhabitants of a territory to meet, to find themselves, to federate through physical practice, to offer a collective performance to a large audience and to experiment, as participant and spectator, with states and intensities, rhythms and points of view. In this way, an ephemeral community is built that leaves its mark on the places it passes through.

A first public presentation of the Slow Show will take place at the MC93 in Bobigny on Saturday 8 February at 5.30 pm.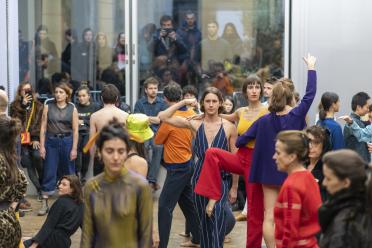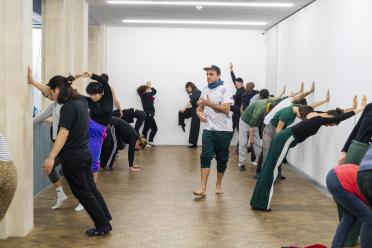 Dimitri Chamblas is a dancer and choreographer. Since 2017, he is the DEAN of dance at CalArts University, Los Angeles.
In 1992, he co-founded EDNA with choreographer Boris Charmatz. Together, they create shows, design events, and exhibitions, and publish books. Their duet "À bras le Corps" has been performed on all continents in world-renowned theatres and festivals. It entered the ballet repertoire of the Paris National Opera in 2017. In 1996, he created with Mathilde Monnier (then director of the Centre chorégraphique national de Montpellier) the "research and writing residency", offering artists a personal creative space outside the traditional production process. In 2013, he conceives with the programmer and producer Amélie Couillaud "Mutant Stage", a series of 10 art films for Lafayette Anticipations, Fondation d'entreprise Galeries Lafayette, shot in the building designed by OMA/Rem Koolhaas. In 2014, Dimitri Chamblas is appointed artistic director of the 3rd stage of the Paris National Opera. In collaboration with Benjamin Millepied, he founded this digital creative platform for which he invites artists such as Glen Keane, Xavier Veilhan, Bret Easton Ellis, Julien Prévieux, William Forsythe, Rubber Legz, United Visual Artists, Lil Buck, Barbara Hanigan, Jonas Kaufmann... to create original works of art inspired by the Paris Opera. Always curious about technological advances and their possible variations, Dimitri Chamblas, in partnership with the Google cultural institute, created in 2015 the first immersive dance film captured at 360 degrees from a dance piece choreographed by Benjamin Millepied. In 2017, he launches the Dimitri Chamblas Studio in Paris and Los Angeles, a structure that hosts all his projects and collaborations, including a duet with the star dancer Marie-Agnès Gillot, his participation in Boris Charmatz's "10,000 Gestures", a creation with the architect François Perrin for the Performa Biennial in New York, and a duet with the artist and musician Kim Gordon. The same year, he became the new Dean of Dance at the California Institute of the Arts (CalArts) in Los Angeles and created "HHUMANN", a piece for 75 dancers presented in the streets of Down Town Los Angeles and at the Hauser & Wirth gallery.
Musicien, artiste et DJ basé à Los Angeles, Eddie Ruscha développe une œuvre qui explore une diversité de médiums et de disciplines.
Diplômé du California Institute of the Arts (CalArts) en 1991, son travail a été présenté dans le cadre de nombreuses expositions internationales. Eddie Ruscha a également réalisé un corpus musical très vaste sous divers noms. Son dernier album « Who Are You », sorti sous le nom E Ruscha V, a été remarqué par la critique. Ruscha a récemment composé la bande son de plusieurs pièces conçues par Dimitri Chamblas, présentées à la galerie Hauser & Wirth et au MAK Center for Art and Architecture, à Los Angeles. Dans ces performances, Ruscha utilise un ensemble d'instruments de musique électronique, d'effets sonores et de guitares pour créer des ambiances musicales en partie improvisées, imaginées pour se fondre avec les performances.