Common Objects (Lapelytè, Butcher, Davies, Patterson)
Saturday 23 Jul 2022 from 7pm to 8:30pm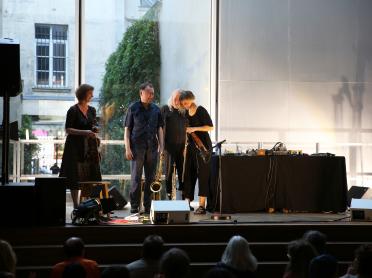 On the occasion of her exhibition, Lina Lapelytè plays with saxophonist John Butcher, violinist Angharad Davies and sound artist Lee Patterson.
Together they form Common Objects, a group of six core members who all come from the fields of experimentation, sound art and improvised music.
A graduate in classical violin, Lina Lapelytè went on to study sculpture at the Royal College of Art in London.
Her early work focused mainly on improvised and electronic music.
In 2013, her creative collaboration with Rugilė Barzdžiukaitė and Vaiva Grainytė resulted in the creation of the contemporary opera Have a Good Day! 
The performance-opera Sun and Sea (2017) is the second project the trio co-created, representing Lithuania at the 58th Venice Biennale in 2019 for which it received the Golden Lion.
Lapelytè's recent and ongoing works Ladies,  Pirouette,  Currents, What happens with a dead fish?, Candy Shop, Hunky Bluff were shown at the 13th Kaunas biennial (2021), Haus der Kunst, Munich (2021), Kunstenfestivaldesarts, Brussels (2021), Tai Kwun, HK (2021), Glasgow International (2021), Riga Biennial - RIBOCA2 (2020), Cartier Foundation gallery, Paris (2019); Tel-Aviv museum of art (2019), Kunsthalle Praha (2019); Waiting for another coming - CCA Ujazdowski, Warsaw (2018); Give up the ghost! - Baltic Triennial, Tallinn (2018); Moderna Museet, Malmo (2017); FIAC, Paris (2017), Baltic Pavilion, Venice Biennial, Venice (2016);  Listening, Hayward touring show, GB (2015); Block Universe, London (2015); Park Nights, Serpentine, London (2014); Baltic CCA, Newcastle (2014).