The backstage of production : Atelier EB
Thursday 18 Apr 2019 from 5:30pm to 7pm
Free access by reservation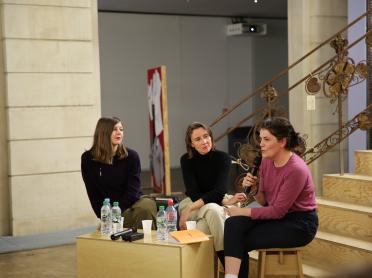 Lafayette Anticipations continues its series of lectures through which the production team, in dialogue with curators and artists, shine a light on the processes of conception and production of its various artistic projects.
The Fondation invites Atelier E.B (the designer Beca Lipscombe and the artist Lucy McKenzie) to show the different production's stages of Passer-By exhibition with Marie Canet, an art critic and curator.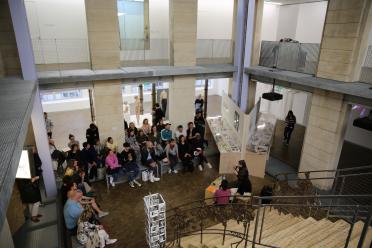 Marie Canet est une critique d'art et commissaire d'exposition française, vivant et travaillant à Paris. Historienne de l'art, elle enseigne l'esthétique à l'École des Beaux-Arts de Lyon et tient un séminaire théorique aux Arts Décoratifs à Paris.
Elle a collaboré avec des institutions telles que le Musée d'Art et d'Histoire du judaïsme ou le Centre Pompidou (Paris), le Credac (Ivry), le Frac Aquitaine (Bordeaux), Flat Time House ou la Tate Modern (Londres). Elle est membre de Caro Sposo, un collectif de programmation spécialisé en cinéma et performance.
Beca Lipscombe is a Scottish fashion and textile designer and printmaker, and one half of Atelier E.B.
After studying at Central St Martins, Lipscombe set up her eponymous label and worked in London and Paris, freelancing for companies such as Liberty, Chloé, Stella McCartney and Ann-Sofie Back. Until 2011 she taught on the Master of Fashion and Textiles at Glasgow School of Art, leaving to focus on Atelier E.B.
Lucy McKenzie works with different mediums from painting to installation and creates environments with references in eclectic sources: from propaganda murals in Eastern Europe to the iconography of the Cold War, 1980s pop music or industrial typography.
Lucy McKenzie studied at Duncan of Jordanstone College of Art and Design in Dundee (Scoltland) and she attends the decorative painting school Van Der Kelen – Logelain (2007-2008), where she was awarded their gold medal. Since 2007 she has collaborated with the textile designer Beca Lipscombe in the design company Atelier E.B. Her work is shown internationally, including recent solo exhibitions at The Art Institute of Chicago, Stedelijk Museum (Amsterdam) and a season of projects at The Artist's Institute (New York).