Apocalypso, Luara Raio
Friday 15 Sep 2023 from 8:30pm to 9:20pm
Saturday 16 Sep 2023 from 5:30pm to 6:20pm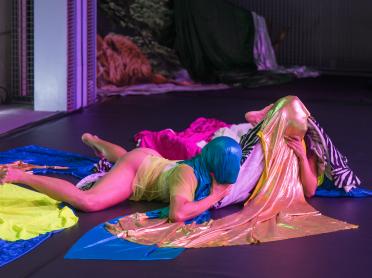 "Apocalypso" is a duet conceived and directed by Luara Raio, performed and co-created with Brazilian dancer and choreographer Acauã El Bandide Sereia.

"Apocalypso" attempts to tear away the veils covering the invisible mechanisms of world colonisation, in order to destroy them. This destructive wave is rooted in a sensitive intersection activated by the body, as a cartography of a hybrid place where performance, spirituality and fiction blur their boundaries.

"Apocalypso" invokes the opacity of certain "undergroud" images, masked by a racist, colonial and cis-heteronormed vision of the world. Through the performance of their two racialised and queer bodies, guided by ancestral and animist invocations, the duo remind us that "we are crossroads" and that we need to be together and share our stories.

Conceived and directed by Luara Raio
Choreography and performance, Luara Raio and Acauã El Bandide Sereia
Lighting, Lui L'Abbate
Set design and costumes, Luara Raio and Anat Bosak

Coproduction Centro Cultural de Belém ; O Espaço do Tempo & Rua das Gaivotas 6 (Lisbon) ; Teatro Praga (Lisbon) ; CND Centre national de la danse (Pantin)
In residency at Honolulu (Nantes) ; Criatório - Circolando (Porto) ; ICI-CCN Montpellier-Occitanie - directed by Christian Rizzo ; Forum Dança (Lisbon)
With the support of the Fonds de soutien à l'insertion post exerce initiated by ICI-CCN Montpellier-Occitanie - direction Christian Rizzo ; Drac Occitanie / ministère de la Culture ; Circolando ; Centro Cultural de Belém ; O Espaço do Tempo & Rua das Gaivotas 6 (Lisbonne) ; CND Centre national de la danse (Pantin)
Funding DGarts; Government of Portugal
A performer, dancer, dyke funk singer and choreographer, Luara Raio trained in the performing arts between Brazil, Portugal and France: at the University of Brasília, Forum Dança in Lisbon and ex.e.r.ce at the CCN de Montpellier-Occitanie.
She was singer and composer with the funk group Sapabonde from 2010 to 2015, travelling around many Brazilian cities singing about the lesbian experience, from lesbian to lesbian.
In Portugal, she works with João Fiadeiro, Mariana Tengner de Barros, Miguel Pereira, Ana Borralho and João Galante. In 2016, she created her first piece, the duo Chubby Bunny, as well as her solo Flecha.
In 2019, she will create Quadrilogia Da Encruzilhada, a series of dances at the intersection of spirituality, imagination and performance. Her work is rooted in a lesbian, racialised, anti-colonial perspective of the body that aims to activate threats and fractures in hegemonic representations of gender, race and the body.
Raised by women teachers and her grandfather a craftsman, Acauã El Bandide Sereia graduated in Theatre from IFCE (2009), in Dance from Curso Técnico em Dança (2012), and PACAP3 in Performing Arts from Fórum Dança (2019).
She explores the in-between of interactions and uses the "Gambiarra" (game) to search for possible images of Democracy in the bodies of queer performance. She seeks to reposition pedagogical and artistic language between confusion, dreams, nightmares, the subtle and the obscene. In 2022 she completed her Master's degree at ICI - Centre chorégraphique national de Montpellier with the projects Além de vocês, o que tem pra comer hoje? and Nuages clouds nuvens intergalactiqueer. She danced in the shows Apocalypso by Luara Radio, En Feijoada by Calixto Neto and Ana Laura Nascimento, and in Nadia Beugré's piece Prophétique (on est déjà né-es).
Acauã El Bandide Sereia is an artist supported by La Briqueterie - CDCN du Val-de-Marne in 2022/ 2023. She currently lives in Saint Denis.