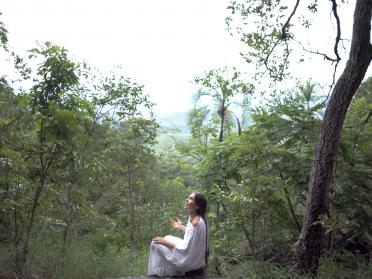 21min
Online event since 2 years et 5 mois
Online event since 2 years et 5 mois
Online event since 2 years et 5 mois
Alto Paraiso
Thursday 24 Jun 2021 from 5pm to 5:22pm
Alto Paraiso is a short performance film directed by Lafawndah.
Set in the eponymous Brazilian community, Alto Paraiso documents an intimate meeting with healer and musician Delfina Mun, with whom Lafawndah had a chance encounter shortly prior to filming.

In Munos, Lafawndah detected a musical practice cosmic in scope - filled with endless becomings, reconciliations of the elements, exchanges of vegetal and sonic intelligence, and xenharmonic dimensions.

Capturing the songs and words of Mun in low-lit reverie, the film invokes the patient, crystalline consciousness of Apitchapong Weerasthethakul as much as the soft-focus, dragon- chasing hypnagogia of Cocteau.

Alto Paraiso unfolds the lullaby as the crossroads of song, landscape, plants, history and future.

Lafawndah is an artist and composer with an unpredictable style.
Born in Paris, Lafawndah has travelled extensively: from New York to Tehran via New Delhi, from Mexico to the tropics, the musician cultivates an aesthetic of displacement for herself as well as for her mutant art, a new musical continent on the margins of East and West.
In 2020, the artist released The Fifth Season on the Parisian label Latency, which explores the collective dimension of ritual as well as the healing powers of repetitive music, influenced as much by Egyptian zar, traditional Indian music and gnaoua as by the totems of American minimalist music such as Steve Reich or Monte Young.