All Fall Down: a conversation with Jack Halberstam
Friday 06 Jan 2023 from 7pm to 8:30pm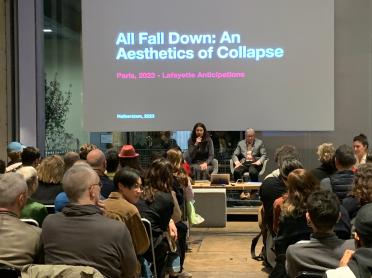 Echoing the Cyprien Gaillard exhibition, Jack Halberstam analyses the cycles of collapse and construction in urban renewal, which he addresses in his catalogue text.
He pleads not for better design, more construction, better architecture, more housing, but for collapse itself and the politics of de-construction, dismantling and tearing things down.

An aesthetic of collapse emerges from a unique body of work by predominantly gay and transgender artists from the 1970s to the present. This aesthetic paves the way for a politics of the end of the world.
Jack Halberstam is Professor of Gender Studies and English at Columbia University.
Halberstam is the author of seven books including: Skin Shows: Gothic Horror and the Technology of Monsters (Duke UP, 1995), Female Masculinity (Duke UP, 1998), In A Queer Time and Place (NYU Press, 2005), The Queer Art of Failure (Duke UP, 2011), Gaga Feminism: Sex, Gender, and the End of Normal (Beacon Press, 2012) and, a short book titled Trans*: A Quick and Quirky Account of Gender Variance (University of California Press). Halberstam's latest book, 2020 from Duke UP is titled Wild Things: The Disorder of Desire. Places Journal awarded Halberstam its Arcus/Places Prize in 2018 for innovative public scholarship on the relationship between gender, sexuality and the built environment. Halberstam is now finishing a second volume on wildness titled: Unworlding: An Aesthetics of Collapse. Halberstam was recently the subject of a short film titled "So We Moved" by Adam Pendleton. It is playing at MoMA until January 30, 2022.