Tumultes
Editor:
Lafayette Anticipations
Graphic Designers:
Pierre Pierre
Date of release:
Jan 2020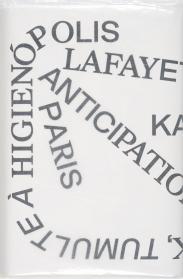 During the exhibition Tumultes à Higienópolis by artist Katinka Bock, four editorial workshops were organised at Lafayette Anticipations, curated by Clara Schulmann and Thomas Boutoux, around the transformation of the city and the following themes: orality, observation, ecology and physicality, governmentality.
Each workshop resulted in the printing of a "journal" produced and printed on site within twenty-four hours of the workshop. The book, composed of these four issues, is completed with original engravings made from images by several artists invited by Katinka Bock. The sheets, in different formats, are based on the formats of international newspapers in reference to the initial activity of the Anzeiger-Hochhaus in Hanover. This emblematic publishing house saw the birth of such important periodicals as Der Stern and Der Spiegel in its basement.