Cyprien Gaillard
Dumpty
Editor:
Lafayette Anticipations
Graphic Designers:
Charles Villa
Printing:
Riso papier master (Oscar Ginter de Parseval)
Date of release:
Oct 2022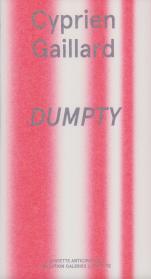 Conceived as a visitor's guide, this booklet sheds light on the work of Cyprien Gaillard, thanks to an extract from an interview between the artist and Rebecca Lamarche-Vadel, curator of the exhibition and director of the Fondation. This guide allows you to navigate between the different works in the exhibition, and to dive into the universe and intentions of Cyprien Gaillard.
This booklet also includes the notes of all the works presented at Lafayette Anticipations during the exhibition.
Entirely produced in the Fondation's workshop using risography, a special printing technique, this book includes photos of the works, as well as behind-the-scenes photos of the preparation of the exhibition.