Villa De Ooievaar digital render (work in progress)
Collection:
Lafayette anticipations - Fonds de dotation Famille Moulin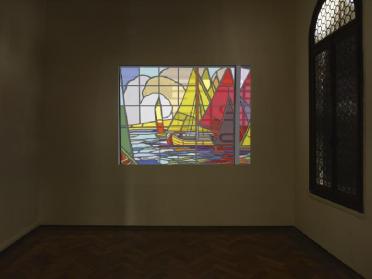 De Ooievaar (Villa Stork) est un édifice moderniste construit en 1935, à Ostende, par l'architecte et designer belge Jozef De Bruycker. Inspiré par le mouvement De Stijl et le Bauhaus, De Bruycker a pris part à l'avant-garde amande qui a opéré la synthèse entre idéologies nationale, politique et artistique. En 2014,
Lucy McKenzie
est devenue propriétaire de la villa, où elle a engagé un projet de réhabilitation en collaboration avec des artisans belges : le designer Frederik Depuydt a contribué à la réalisation d'une maquette 3D de l'édifice, l'ébéniste Laurent Gielis à celle d'une table et de répliques de chaises, et l'entreprise Ora Pro Nobis à celle d'un tapis. Tout en respectant les matériaux et le design originels de la maison et du mobilier,
Lucy McKenzie
a instillé dans ces rénovations de subtiles modifications, faisant de De Ooievaar une demeure appropriée par une artiste.
Exhibition
You
Musée d'Art Moderne de la Ville de Paris, Paris (France)
from 11 Oct 2019 to 16 Feb 2020
Production specifications
The Fondation preserves and documents traces of the works at various stages of their creation (sketches, models, prototypes, etc.).