Phoenix
Materials:
Wool, Plastic, Cotton thread, Mica flakes
Dimensions:
146.05 x 55.88 x 12.7 cm
Collection:
Lafayette anticipations - Fonds de dotation Famille Moulin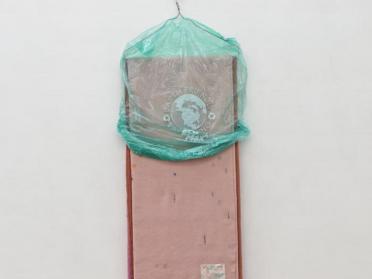 Liz Magor questions the physical and emotional relationships we maintain with the objects that surround us in our lives. Phoenix is part of a series made from blankets purchased in second-hand stores. The artist leaves her mark on these textiles, damaged by time and use, by mending tears, fixing snares and highlighting stains and burns. These imperfections, all reminders of past existences, are carefully thrown into relief, like the Japanese art of kintsugi, which consists of repairing broken ceramics with gold. Sent to be dry-cleaned then presented folded on hangers, still partially protected by a plastic cover, these blankets once provided warmth, softness and protection to their owners. Now, they are being preserved by the artist.
Exhibitions
You
Musée d'Art Moderne de la Ville de Paris, Paris (France)
from 11 Oct 2019 to 16 Feb 2020
Liz Magor
MAMAC de Nice, Nice (France)
from 18 Nov 2017 to 13 May 2018
Liz Magor
MAMAC de Nice, Nice (France)
from 03 Jun to 01 Oct 2017
Liz Magor: You you you
Migros Museum für Gegenwartskunst, Zurich (Suisse)
from 18 Feb to 07 May 2017
The Blue One Comes in Black
Le Crédac, Ivry-Sur-Seine (France)
from 09 Sep to 18 Dec 2016
Six ways to sunday #06
Peep-Hole, Milan (Italie)
from 23 Sep to 07 Nov 2015
L'intruse
Galerie Marcelle Alix, Paris (France)
from 14 Nov 2014 to 24 Jan 2015
No Fear, No Shame, No Confusion
La Friche la Belle de Mai, Marseille (France)
from 12 Oct 2013 to 02 Feb 2014