Oog onder de put
Materials:
Plaster, Polyester
Dimensions:
55 x 48 x 37 cm
Collection:
Lafayette anticipations - Fonds de dotation Famille Moulin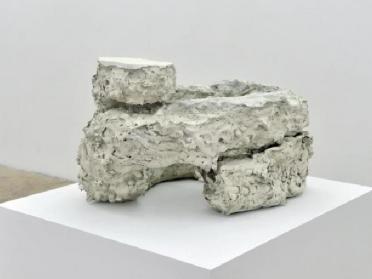 Oog onder de put ("Eye under the well" in English) is a plaster and polyester sculpture whose form evokes two entwined arms. Its enigmatic title is characteristic of Bruno Botella's work and of his exploration of the limits of perception in a permanent tension between the hidden and the visible. The rough aesthetic of the object gives an impression of unfinishedness (non finito). For the artist, each operation is only a stage in the infinite process of creation that reveals the transitory nature of the material. This singular reflection on art and his taste for experimentation lead him towards unusual materials. The modelling clay used (qotrob) has hallucinogenic properties that provoke a state of trance by penetrating the skin through the pores. By engaging physically in the creative experience, Bruno Botella questions the interaction of the body with its environment, sometimes even in its toxicity.

Text written by Margaux Granier as part of the partnership between the École du Louvre and Lafayette Anticipations – Fonds de dotation Famille Moulin.
Exhibitions
Corps Nouveaux
Centre d'art contemporain - La Traverse, Alfortville (France)
from 23 Sep to 20 Nov 2021
Art.132-75
Kunstverein Langenhagen, Langenhagen (Allemagne)
from 26 Apr to 16 Jun 2019