Mono, farine de France, famine du monde, vital, culture. Ils coulent. Nous confondons le riz, le sable recouvrant le sang et l'huile de Palme. Ils tirent. Ecologique, énergétique, numérique. Agro, accro. Ils tirent, ils foncent sur la foule,...
Materials:
Flag, Bed base, Plastic, Fabric, Cable, Shoe, Rice, Carpet, Fork, T-shirt
Dimensions:
16 x 214 x 155 cm (installation totale)
Collection:
Lafayette anticipations - Fonds de dotation Famille Moulin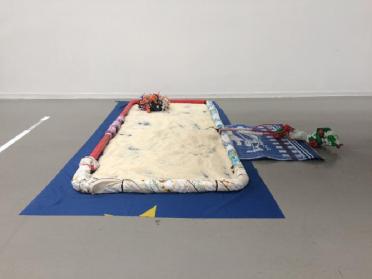 These three works, which are part of an installation entitled Ricochets, les galets que nous sommes finiront par couler (Épilogue), can function separately or together. The titles of these pieces refer to Julien Creuzet's poem Ricochets. The same elements are found in each composition: the mattress filled with rice or a piece of the European flag. Only the ancillary components of the works vary. The mattresses evoke something hard and dark, such as recumbents and tombs, an impression reinforced by the pieces of torn flag that seem to have been placed in a hurry. The use of rice is very symbolic for the artist: it is the most consumed food in the world and a staple for many people, particularly the poorest. Through this work, he also explores the events that led to the attacks of November 13, 2015 in Paris, in this case the division of Africa at the Berlin conference in 1885. The fragmented flag also represents the separation of the continent into colonies. According to Julien Creuzet, modern terrorism is the consequence of colonization. Through this installation, the artist explores facts that may seem distant, but whose consequences are still being felt today, like ricochets.

Text written by Elise Vassiliadis-Poirey as part of the partnership between the École du Louvre and Lafayette Anticipations – Fonds de dotation Famille Moulin.
Exhibition
You
Musée d'Art Moderne de la Ville de Paris, Paris (France)
from 11 Oct 2019 to 16 Feb 2020