A Minute Ago.
Dimensions:
8 minutes 43 secondes
Collection:
Lafayette anticipations - Fonds de dotation Famille Moulin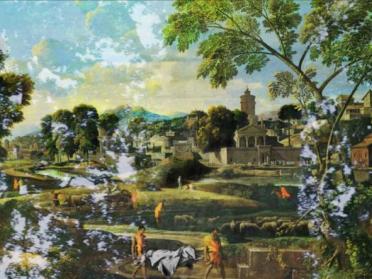 Rachel Rose
's video A Minute Ago is a sensory experience between synchrony, déjà vu and disappearance. This experience emerges in the different sequences of the work: a hailstorm suddenly falling on a beach where, two minutes earlier, everyone was sunbathing or swimming, then the visit of the famous Glass House by its architect and owner Philip Johnson, who disappeared before the work was completed and reintegrated as a blurred figure in the image. The video progresses to the sound of Pink Floyd playing in Pompeii in 1971 in front of an absent audience, then to the rhythm of Steve Reich's percussions (Music for Pieces of Wood), which chant the pulverization of the image and announce the vibrant appearance of the Landscape with the funeral of Nicolas Poussin's Phocion. Playing on notions of presence and present, A Minute Ago attempts to sew a suture from real to real and from time to time.
Exhibition
You
Musée d'Art Moderne de la Ville de Paris, Paris (France)
from 11 Oct 2019 to 16 Feb 2020