3 semaines
Materials:
Cardboard, Paper, Chalk, Ink, Eraser, Book cover, Pigment, Glue, Cement
Dimensions:
115 x 239 x 60 cm
Collection:
Lafayette anticipations - Fonds de dotation Famille Moulin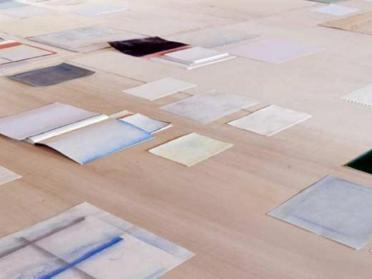 The papers are staged based on a balance between the traces dating from before their discovery and the artist's later additions. Both evidence and a sign of passage, 3 semaines follows a particular sequence while summoning multiple media and artistic histories. Cardboard and paper marked with ink, eraser, and chalk evoke traditional materials. The artist adds innovations by using dust and cement. She seeks to evoke a sensory experience by adding her own imprint to these papers' history. Their different arrangements on the floor suggest a synaesthesia with the materials. The familiar process of drawing is brought into question, as the artist explains that "here, drawing is done in a series of gestures"—collecting, sorting, filing, arranging in an administrative order. The recovery of these discarded and abandoned papers reveals man's omnipresence in a natural world that has been altered, or even exploited.

Text written by Manon Prévost-Van Dooren as part of the partnership between the École du Louvre and Lafayette Anticipations – Fonds de dotation Famille Moulin.
Exhibition
Agir dans ce paysage
Centre international d'art et du paysage - île de Vassivière, Beaumont-du-Lac (France)
from 07 Jul to 06 Oct 2013