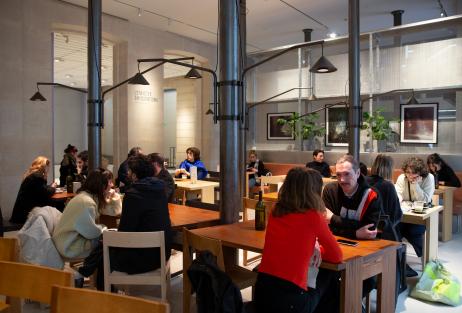 Located in the Marais, in the heart of the Fondation, Mātēr café and restaurant is open all day and evening, offering delightful bites and drinks for any time of the day.
For lunch and brunch, come to enjoy some comfort food like mimolette waffles, gooey grilled cheese sandwiches, marinated shiitake mushrooms on a freekeh risotto, and the famous French toast with whipped sheep's cheese and homemade jam.. Throughout the day, you will find fresh pastries on the counter, best enjoyed with a spiced chaï latte or specialty coffee. Take a break after a visit of the exhibition, surrounded by works of artists of the moment, in the exceptional architecture designed by Rem Koolhaas.
In the evening, after the exhibition closes, the restaurant comes alive with creative and refined sharing plates, natural wines and a cutting edge playlist.
→ The chef: The chef, Adrien Deliere, is a globe-trotter who enhances seasonal products with spices of the world. Each dish becomes a moment of joyful sharing, a philosophy that perfectly fits with Mātēr, a convivial space at the heart of the pulsating Fondation.
→ The teas and coffees: Coffees are carefully selected by Plural, a small independent coffee company in Paris 18th, and sustainable teas are selected by Artéfact.
→ Natural wines: The selection of natural wines will excite any palate, including the curious ones craving to discover independent wine producers!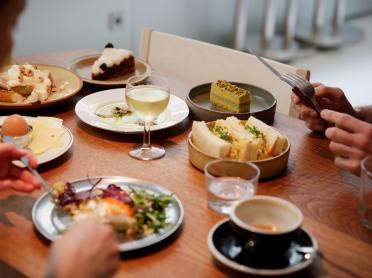 Opening hours
Monday Closed
Tuesday Closed
Wednesday 12pm - 7pm
Thursday 12pm - 7pm
Friday 12pm - 7pm
Saturday 12pm - 7pm
Sunday 12pm - 7pm