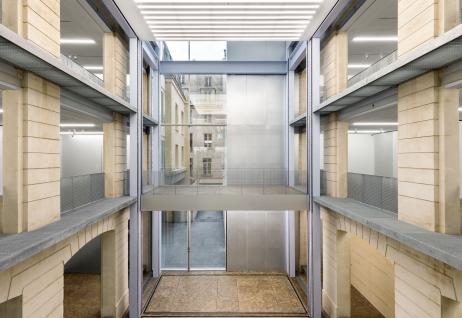 Located in a 19th century industrial building of 2, 200 m2, Lafayette Anticipations is a place for creation, innovation and research. The renovation project is led by architect Rem Koolhaas and his firm, OMA.
The seven story industrial building, characteristic of the end of the 19th century, is structured in a U-shape around a courtyard. The building can be crossed freely, thus leading to the rue Sainte-Croix-de-la-Bretonnerie via a covered passage. The architectural intervention manages to articulate two seemingly contradictory conditions: the desire for programmatic flexibility and the respect of strict and mandatory preservation rules. The building is the laureate of the "prix spécial du jury de l'Equerre d'argent 2018".
An "exhibition tower" equipped with four mobile platforms is inserted into the building's courtyard. These motorized platforms can move independently along rails and align with the existing floors.
With each exhibit, these innovative platforms allow the space to be reconfigured in 49 different ways. These multiple arrangements instil verticality, flexibility and adaptability, as required by numerous current and future projects. The building offers 875 m2 of exhibition space. This curatorial machine completes another fundamental component of the Fondation: its production workshop situated in the building's basement. Here, pieces are conceived and created by guest artists. The simultaneous use of these two structural features foster the creation of unique projects, with their own spatial configuration.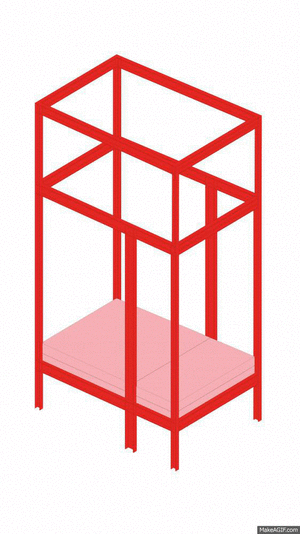 2, 200 m2: surface area
875 m2: exhibition surface area
350 m2: production workshop
19 m: height of exhibition tower
50 m2: large mobile floor
25 m2: small mobile floor
49 different floor configurations
Built for François-Xavier Ruel's BHV in 1891 by architect Samuel Mejot de Dammartin, the 9 rue du Plâtre is an industrial building with an elegant façade. First used as a warehouse, it went on to serve as a reparation shop for straw hats (a BHV specialty), then as a dispensary, a girls' school and, more recently, as a higher-education preparatory school.
Production specifications
The Fondation preserves and documents traces of the works at various stages of their creation (sketches, models, prototypes, etc.).
Une conjonction de savoir-faire
Générique du bâtiment
Vidéo des planchers mobiles
Rencontre avec Rem Koolhaas
Guillaume Houzé et François Quintin rencontrent Rem Koolhaas au Café Marly. En présence de Maria Finders
Première visite d'OMA du bâtiment
avec Maria Finders (OMA), Guillaume Houzé, François Quintin,
Rem Koolhaas
François Quintin