Yussef Dayes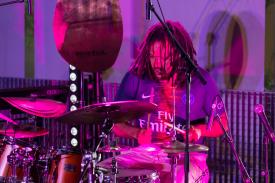 Born in 1993 at London (United Kingdom).
Yussef Dayes is one of the UK's most exciting, innovative young drummers and producers. Though largely considered a "jazz" drummer, his sound melds everything from 70s funk to Senegalese percussion to recent UK grime. The unifying factor is a fluid, vital energy.
Growing up in South East London, Yussef began his musician journey listening to his dad's jazz records, and performing with his brothers from age 4. He's gone on to study with the legendary Billy Cobham, and began regular gigging with his brothers in afrobeat and rock-influenced jazz outfit United Vibrations. He is also known for his collaboration with Kamaal Williams, creating the duet Yussef Kamaal in 2015. Following 2018's 'Love Is The Message' - Yussef's first solo release - 2019 is set to be his busiest year yet, with a debut solo album in the pipeline as well as collaborative projects across the board.