Romain Kronenberg

Born in 1975 at Paris (France).
Lives and works in Paris (France).
After two years at the Faculty of Protestant Theology at Geneva University, Romain Kronenberg studied music theory, jazz and electro-acoustic composition at the Conservatoire Supérieur de Musique in Geneva. Between 2001 and 2005, he worked as composer and sound designer at IRCAM, where he collaborated with visual artists like Ugo Rondinone, Pierre Huyghe, Melik Ohanian and Thierry Kuntzel.
From 2005 onwards, he gradually began to extend his practice to other disciplines, such as video and performance. In his work, Romain Kronenberg explores themes like desire, or the absence of desire, for others and for life; the construction and deconstruction of individual mythologies; the longing or hope for renaissance, with nothingness or oblivion as both the origin and the end result. Each project is an attempt to create an equilibrium between these concepts and their opposites. His pieces take shape in a specific territory and in architectural structures, also the actors in these stories.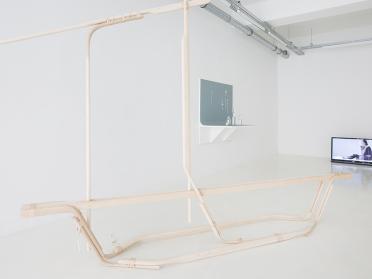 Exhibited at Lafayette Anticipations