Marine Serre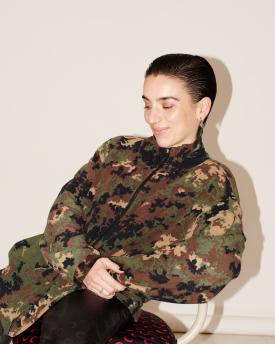 Lives and works in Paris (France).
Born and raised in Corrèze, Marine Serre has gained ground quickly as a couturier for and from a new generation, operating from Paris.
After a string of affirming internships and jobs at Alexander McQueen, Maison Martin Margiela, Dior, and Balenciaga, Marine's graduation collection, A Radical Call for Love was simultaneously selected for the Hyères Festival, the ANDAM Prize and the LVMH Prize in 2017. Before winning the latter in June '17, she sold globally across Dover Street Market, SSENSE, H.Lorenzo, and other progressive retailers.
She had moved to Paris and made it her new home. Fast forward three years her critical acclaimed designs have meanwhile garnered a cult following, with highlighted collection titles such as Manic Soul Machine, Radiation, Marée Noire, Mind Melange Motor, Amor Fati, CORE, and her last tumultuous presentation for Spring/Summer 2022: OSTAL24, the short film featuring the Fichu Pour Fichu collection.
Convinced to remain fully independent, Marine Serre received the prestigious ANDAM Award in July 2020, providing the brand a further acclaim and critical endorsement from its jury of industry heavyweights.
Over the seasons the scope progressed and widened. Crucially, the label introduced a new approach in the design and production seasonal ready-to-wear: using end-of life product as a base for new and unique high-end tailored garments, a practice labelled as Regenerated. Today, SS22 is Serre's most sustainable collection yet, composed of 45% recycled and 45% regenerated materials.
The uncompliant designer sees her collections structured over four different lines:
MARINE SERRE: WHITE LINE, versatile Garments celebrating life from dawn till dusk.
MARINE SERRE: GOLD LINE, elaborated Attires investigating unknow hybrid mode(s).
MARINE SERRE: RED LINE, unique artisanal Vesture questioning habit(s) through couture.
MARINE SERRE: BORDERLINE, selected Underwear blurring the binary between body and wear.