Lily Sato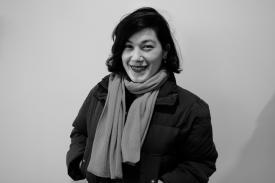 Born in 1987 at Paris (France).
Lives and works in Bruxelles (Belgique).
In 2012, Lily Sato co-founded Studio Bankrupt with Marine Peyraud, with whom, over the course of 5 years, she has created and led a number of different projects at the crossroads of art and design. Together, they have designed a new workshop – PLAYGROUNDS (2018) – a special creation for the Studiolo and its public!
Lily Sato is a graduate of the École des Arts Décoratifs de Strasbourg. In 2014, she began a collaboration with the French artists collective (LA)HORDE. The three member artists – Marine Brutti, Jonathan Debrouwer and Arthur Harel – strive to develop their practice through directing and producing films, video installations, choreography and performance. Lily participated in a number of different projects, and played an important role in the direction, design and production of costumes and accessories, as well as playing a part in the writing of plays and stage design. Since then, Lily has worked as a costume designer and scenographer for different events: music clips, short films, and plays, with the constant desire to apply her practice to new fields of experimentation and production. In 2018, she worked alongside Antonin Jenny on the project Mes Bras Connaissent, created as part of the Festival XS at the Théâtre National de Belgique in Brussels.