Hicham Khalidi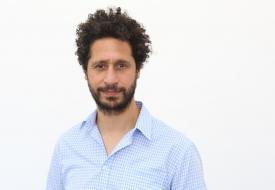 Born in 1972.
Lives and works in Maastricht (Pays-Bas).
Hicham Khalidi is currently the director of the Jan Van Eyck Academie.
Prior to this, he was an associate curator at Lafayette Anticipations (Fondation d'entreprise Galeries Lafayette) in Paris. In this capacity, he was involved in commissioning work in the disciplines of fine art, design and fashion. In the period 2013–15, he was responsible for programming exhibitions and the Artefact Festival at the STUK House for Dance, Image and Sound in Leuven. From 2003 to 2011 he was the artistic and general director of TAG, institute for contemporary art and music in The Hague. Khalidi was the curator of the ACT II group exhibition in the Beirut Sharjah Biennial in 2017, served as a cultural attaché to the Biennale of Sydney in 2016, and was chief curator of the Marrakech Biennale in 2014.