Emmanuelle Huynh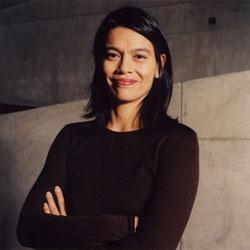 Lives and works in Paris (France).
Emmanuelle Huynh studied philosophy and dance. She worked as a performer with Nathalie Collantes, Hervé Robbe, Odile Duboc, Catherine Contour, and the Knust Quartet, and was the recipient of a Villa Médicis grant in 1994 for an off-site project in Vietnam. Upon her return, she created her first opus: the solo piece Múa, in collaboration with lighting designer Yves Godin and composer Kasper T. Toeplitz. This creation placed collaboration with artists from different fields at the heart of her work.
Emmanuelle Huynh develops choreographic narratives that are constantly renewed, yet specific to each project. Since 1992, she has conducted a series of interviews with Trisha Brown, published in December 2012 by Les Presses du réel: History (s) and readings: Trisha Brown / Emmanuelle Huynh. On 1st January 2013, Emmanuelle Huynh relaunched her dance company, Mùa, through which she continues her creative work, educational activities, and various international, multi-disciplinary projects. From February 2004 to December 2012, Emmanuelle Huynh directed the Centre national de danse contemporaine Angers (CNDC), a national choreographic centre, as well as a school devoted exclusively to contemporary dance. Between 2014 and 2016, following an invitation by the cultural department of the French Embassy in New York, Emmanuelle Huynh produced the project A taxi driver, an architect and the High Line, with Jocelyn Cottencin: a portrait of New York City through its architecture, spaces, and inhabitants, composed of film portraits and a performance. The installation of the work was created at the Passerelle Centre d'art contemporain, Brest in February 2016, and the corresponding performance presented during the Danzfabrik Festival / Le Quartz in March 2016. During the preparations for A taxi driver, an architect and the High Line, a long-term collaboration has developed with Japanese dance artist Eiko Otake, based in the United States, whom she met in 2013. This collaboration has been punctuated by a number of public presentations (Brussels in May 2015, New York in June 2015 and February 2016, and Berkeley in April 2016, etc.).