Elvire Caillon & Léonard Martin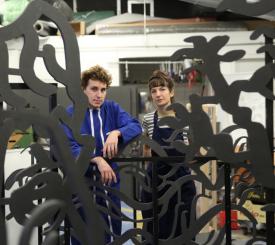 Elvire Caillon and Léonard Martin both studied at the Beaux-Arts de Paris.
Elvire Caillon is a visual artist. Her dual training at the Beaux-Arts de Paris and the École Estienne has led to collaborations in various fields: clothing at agnès b., music with the group Bagarre or the Cracki records label, illustration for the magazine INfluencia or the production company Les Indépendances. Her plastic work was noticed at the Salon de Montrouge, supported by residencies at the Friche de la Belle de Mai or the Villa Belleville, and awarded the Contemporary Drawing Prize of the Beaux-Arts de Paris.
Léonard Martin is a visual artist with a degree from Le Fresnoy - Studio national des arts contemporains et des Beaux-Arts de Paris. During his residency at the Villa Medici in Rome, he created a parade of gigantic figures inspired by the painting of the Quattrocento and the Giants of the North. These mobile sculptures were exhibited at the Palais de Tokyo as part of the Audi talents prize and paraded during the Nuit blanche in Paris.