Charlotte Khouri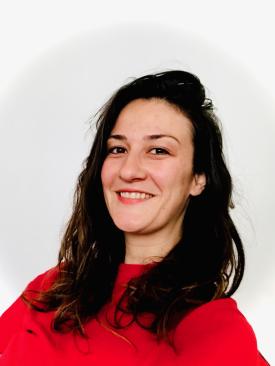 Charlotte Khouri is an artist who designs sets, props and texts to perform on camera or live.
Her performance work is rooted in a practice of decorative painting and the design of stage props. These primary practices allow her to activate a ghostly link between forms and subjects through voice and text, making them at times witnesses, at times supports for a scenic complicity with the spectator or with a sometimes personified object.
By displacing images, figures and existing architectures in relation to her own scale - her body - she reappropriates a dominant cultural and historical continuum, through stagings that tend towards humour.
By replaying forms of media discourse, she seeks to deflect these shackles into absurdist poetry.
Trained at the Ecole supérieure des beaux-arts de Marseille, then at the Haute Ecole d'art et de design de Genève, she participated in the Salon de Montrouge 2019.
At the invitation of Anne Le Troter, they wrote and directed a dozen pieces of residential theatre that were hosted by the Saint-Nazaire Art Centre - le Grand Café, by the Frac Champagne Ardenne and by the Nanterre-Amandiers theatre in the Poltergeist programme.
Between 2019 and 2020, she was resident at La Galerie, Centre d'art contemporain de Noisy-le-sec, where her first solo exhibition Dauphins, Dauphines was held. During the same season, she led workshops at the Lafayette Anticipations Foundation, on the themes of general culture and television.
She will soon be in residence for the Landerneau Biennial 2022.